Jack-O-Lantern Mini Cheesecakes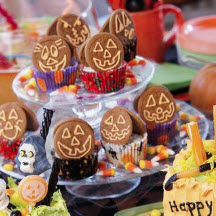 Jack-o'-lantern-face gingersnaps top creamy mini pumpkin cheesecakes for a yummy flavor pairing (and a cute table display!).
Tip: Use Halloween-theme cupcake liners for the cheesecakes to add to the festivity.
Recipe Ingredients:
32 (2-inch) gingersnap cookies
4 (8-ounce) packages cream cheese, softened
1 2/3 cups granulated sugar
1 (15-ounce) can pumpkin puree
1/4 cup whipping cream
1 teaspoon ground cinnamon
1 teaspoon ground allspice
4 large eggs
1/4 cup whipping cream
2 tablespoons caramel ice cream topping
Additional gingersnap cookies (optional)
Decorator icing (optional)
Cooking Directions:
Preheat oven to 350°F (175°C). Line 32 muffin cups with paper bake cups. Place 1 gingersnap cookie in the bottom of each lined muffin cup; set aside.
In a very large mixing bowl, beat cream cheese and sugar until light. Remove 3/4 cup of the mixture; cover and chill. Beat pumpkin, the 1/4 cup whipping cream, the cinnamon, and allspice into the remaining mixture until smooth. Add eggs; beat until just combined. Spoon about 1/4 cup of the mixture into each cup.
Bake about 20 minutes or until centers appear set. Remove from muffin cups. Cool completely on a wire rack. Cover and chill for several hours or overnight.
Before serving, let the 3/4 cup chilled cream cheese mixture stand at room temperature for about 30 minutes. Stir in the remaining 1/4 cup whipping cream. Spread over the tops of the cheesecakes. Drizzle a little caramel topping on each cheesecake.
If desired, decorate additional gingersnap cookies with pumpkin faces using decorator icing.
Makes 32 mini cheesecakes.
Recipe and photograph provided by Better Homes and Gardens - BHG.com a member of the Home and Family Network for the best of cooking, gardening, decorating and more. © Meredith Corporation. All Rights Reserved.