Mardi Gras Three Kings Cakes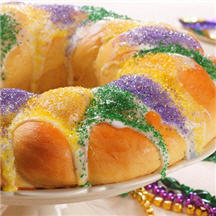 The King Cake is the traditional dessert served during Mardi Gras celebrations.
French settlers brought this custom to New Orleans around 1870 to celebrate the feast of the Epiphany - the arrival of the three wise men bearing gifts twelve days after Christmas. The round shape of the cake represents the circular route taken by the Three Kings to confuse King Herod, who was following them to find the Christ child. A small figurine symbolizing the baby Jesus, small coin or bean is baked into the King Cake. In 1871, the tradition of choosing the queen of the Mardi Gras was decided by whoever found the prize in the cake. Today, it is considered good luck to find the prize and that person usually hosts next year's party and bakes the King Cake. The three colors used to decorate the cake are symbolic to the festival and were chosen in 1872: purple for justice, green for faith and gold for power.

Recipe Ingredients:
Cake:
1/2 cup warm water, (110°F to 115°F | 45°C)
2 (0.25-ounce) packets active-dry yeast
2/3 cup (5 ounce can) NESTLÉ® CARNATION® Evaporated Milk - divided use
5 1/2 to 6 cups all-purpose flour - divided use
1/2 cup granulated sugar
1 teaspoon grated lemon peel
1 teaspoon salt
1/2 teaspoon ground nutmeg
3 large eggs, at room temperature
4 large egg yolks, at room temperature
1/2 cup (1 stick) butter, softened
2 small, plastic baby figurines, coins or beans each wrapped in wax paper
Icing:
2 cups powdered sugar
2 tablespoons lemon juice
3 to 4 teaspoons water - divided use
2 tablespoons each of green, purple and yellow sugars
Cooking Directions:
For Cake: Combine warm water and yeast in glass measure. Let stand for 10 minutes. Reserve 1 tablespoon evaporated milk to use as a wash later; refrigerate.
Combine 4 cups flour, sugar, lemon peel, salt and nutmeg in large bowl. Make a well in the center. Place yeast mixture, remaining evaporated milk, eggs, egg yolks and butter in well; stir well. Add about 1 to 1 1/2 cups flour until a soft smooth dough is formed.
Place dough on lightly floured surface; knead gently for about 5 minutes, until dough is smooth and elastic, adding additional flour as necessary. Shape into a ball. Place in large greased bowl; turn over. Cover with greased plastic wrap. Let rise in warm place for about 1 to 1 1/2 hours or until doubled in size.
Grease two large baking sheets.
Punch dough down. Remove dough from bowl to lightly floured surface. Cut dough in half. Return one half to bowl. With dough on board, cut dough into three even pieces. Roll each piece to a 24-inch length. Braid. Lift braid to baking sheet. Form a ring and join ends. Lift up one area and insert the figurine that has been wrapped in wax paper by pushing it up through the bottom. Cover ring with greased plastic wrap. Repeat with remaining half of dough. Allow to rise in warm place for about 30 minutes or until almost doubled in size.
Preheat oven to 350ºF (175ºC). Brush top of each ring with reserved tablespoon of evaporated milk.
Bake for 15 to 20 minutes or until golden brown and sounds hollow when tapped. Cool on baking sheet for 10 minutes; remove to wire rack to cool completely.
For Icing: Combine powdered sugar, lemon juice and 3 teaspoons water in small bowl until smooth. If necessary, add additional teaspoon of water to achieve a spreadable consistency.
Spread half of icing over top of first cake, allowing icing to drip down sides. Immediately sprinkle with half of colored sugars in 2" wide strips of green, purple and yellow. Repeat on other ring with remaining icing and sugars.
Store cakes tightly wrapped at room temperature.
Makes 2 cakes (15 servings each).
Recipe and photograph are the property of Nestlé® and Meals.com, used with permission.