Pumpkin Patch Cupcakes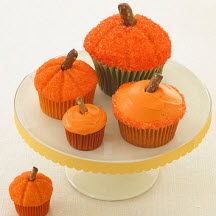 With some simple decorating tricks, cupcakes easily take on a Fall-inspired holiday theme.
Tip: Bake or buy mini, regular, and jumbo cupcakes to create three sizes for your pumpkin patch.
Recipe Ingredients:
Cupcakes:
1/3 cup butter
2 large eggs
1 cup all-purpose flour
1 teaspoon baking powder
1/4 teaspoon baking soda
1/8 teaspoon salt
2/3 cup granulated sugar
1 teaspoon vanilla extract
1/3 cup buttermilk or sour milk*
Creamy Frosting:
4 ounces cream cheese, softened
2 tablespoons butter, softened
1 teaspoon vanilla extract
2 1/2 cups powdered sugar
Orange food color
Garnish:
Orange decorating sugar
Pretzel sticks
Cooking Directions:
For Cupcakes: Let butter and eggs stand at room temperature for 30 minutes. Grease twelve 2-1/2-inch muffin cups or line with paper bake cups; set aside. In a medium bowl stir together flour, baking powder, baking soda, and salt; set aside.
Preheat oven to 350°F (175°C).
In a large mixing bowl beat butter with an electric mixer on medium to high speed for 30 seconds. Add sugar and vanilla. Beat on medium to high speed about 2 minutes or until light and fluffy, scraping sides of bowl as necessary. Add eggs, one at a time, beating until combined after each addition. Alternately add flour mixture and buttermilk to butter mixture, beating on low speed after each addition just until combined.
Spoon batter into prepared muffin cups, filling each about half full. Bake for 18 to 20 minutes or until a wooden toothpick inserted in the centers comes out clean. Cool in muffin cups on a wire rack for 5 minutes. Remove cupcakes from muffin cups and cool completely on wire rack. Generously spread Creamy Frosting over cupcakes.
For Creamy Frosting: In a large bowl beat together cream cheese and butter with an electric mixer on medium to high speed until smooth. Beat in vanilla. Gradually add powdered sugar, beating until smooth. Tint as desired with orange food coloring.
To Decorate: Mound orange frosting on cupcakes then gently roll the entire top or just the edge in orange decorating sugar, alternating fine and coarse sugars for the look you prefer. To make indentations that resemble the lines of a pumpkin, press a wooden skewer on top of sugared cupcakes, spacing evenly. Finish with pretzel-stick stems.
Makes 12 cupcakes.
*To make sour milk: Place 1 1/2 teaspoons lemon juice or vinegar in a 1-cup glass measure. Add enough milk to equal 1/2 cup. Let stand for 5 minutes before using.
**To soften the cream cheese for the frosting, let it stand at room temperature about 30 minutes. Or, place it in a microwave-safe container and microwave, uncovered, on 100 percent power (high) about 10 seconds or until softened.
To Store: Place frosted cupcakes in an airtight container and chill in the refrigerator for up to 24 hours. For longer storage, keep unfrosted cupcakes in an airtight container at room temperature for up to 2 days or in the freezer for up to 6 months. Thaw frozen cupcakes at room temperature for 1 hour before frosting. Store frosting in an airtight container in the refrigerator for up to 2 days.
Recipe and photograph provided by Better Homes and Gardens - BHG.com a member of the Home and Family Network for the best of cooking, gardening, decorating and more. © Meredith Corporation. All Rights Reserved.