Rudolph the Red-Nosed Reindeer Cake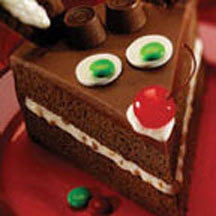 A fun holiday cake for young and old! Just before serving, this cream-filled chocolate-frosted layer cake is cut into wedges and decorated with assorted candies, cookies and cherries for eyes, antlers, ears and nose.
Recipe Ingredients:
Cake:
1/2 cup dairy sour cream
2 large eggs
1 teaspoon almond extract
2 1/2 cups all-purpose flour
2 cups granulated sugar
2 teaspoons baking powder
1 teaspoon salt
4 ounces unsweetened baking chocolate, coarsely chopped
1/4 cup butter
1 1/2 cups boiling water

Filling:
1/2 cup whipping cream
8 ounces cream cheese, softened
1 cup powdered sugar
1/2 cup granulated sugar
1/4 teaspoon almond extract
3/4 cup chopped nuts (optional)

Icing:
6-ounce package semisweet chocolate pieces
1/4 cup butter
1/2 cup dairy sour cream
2 1/2 cups powdered sugar, sifted

Suggested Decorations:
16 M&M's® milk chocolate candies (eyes)
16 Rolo® milk chocolate covered antlers (antlers)
4 Pepperidge Farm® Double Chocolate Chunk Soft Baked cookies, cut in half (ears)
8 maraschino cherries (noses)
Cooking Directions:
Preheat oven to 350°F (175°C). Butter and flour two 9-inch round cake pans.
In a small bowl, stir together sour cream, eggs and extract; mix well and set aside.
Combine flour, sugar, baking powder and salt; set aside.
In a large electric mixer bowl, combine chocolate, butter and water; stir with a spoon until mixture is melted and smooth. Add half of flour mixture to chocolate mixture and beat on low speed of electric mixer until combined. Add sour cream mixture and beat until combined. Add remaining flour mixture and beat until smooth. Pour batter into prepared pans.
Bake 25 to 30 minutes or until wooden pick inserted in center comes out clean. Cool layers in pans on wire racks 10 minutes; remove from pans and cool completely on wire racks. While cakes cool, prepare filling and icing.
For filling, beat whipping cream at high speed with an electric mixer until soft peaks form; set aside. Beat cream cheese, powdered sugar, sugar and extract at medium speed until creamy. Fold cream cheese mixture into whipped cream. Stir in nuts, if desired. Chill.
For icing, melt chocolate and butter in a small saucepan over low heat, stirring frequently. Cool about 5 minutes. Stir in sour cream. Gradually add powdered sugar, beating till smooth and easy to spread.
To assemble, pipe chocolate icing around outer edge of bottom layer. Spread all but 1 cup filling inside the piped circle. Place second layer on top. Frost top and sides of cake with icing. Just before serving, cut cake into 8 slices and decorate as desired using reserved filling, candies, cookies and cherries for eyes, antlers, ears and nose.
Makes 6 servings.
M&M's® is a registered trademark of Mars, Incorporated. Rolo® is a registered trademark of Société des Produits Nestlé S.A. Pepperidge Farm® is a registered trademark of Pepperidge Farm, Incorporated.
Recipe and photograph provided courtesy of Wisconsin Milk Marketing Board, Inc.