Spritz Cookies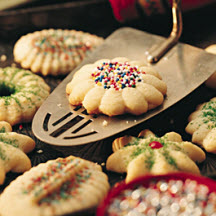 Spritz cookies get their name from the German word for "to squirt" because the dough is squirted from a cookie press. Buttery and delicate, Spritz cookies are shaped by a decorative tip at the end of the press.
Recipe Ingredients:
3 sticks (1 1/2 cups) butter, room temperature
1 cup granulated sugar
1 large egg, plus 1 yolk
1 teaspoon vanilla extract
1/2 teaspoon almond extract
3 1/2 to 4 cups all-purpose flour, sifted
1 teaspoon baking powder
Colored sugar, decorative sprinkles and cinnamon candies for decoration
Cooking Directions:
In a large mixing bowl, thoroughly cream together butter and sugar, beating for 2 minutes. Add egg, egg yolk, vanilla and almond extracts; beat well.
Sift together 3 1/2 cups flour and baking powder; add gradually to creamed mixture, mixing to form a soft, but not sticky, dough. (If dough is sticky, add additional flour in small amounts until proper consistency is reached.)
Fill cookie press; press cookies onto ungreased cookie sheets. Decorate with colored sugar or cinnamon candies or decorative sprinkles.
Bake in a 400°F (205°C) oven for 8 to 10 minutes.
Cool on a wire rack. Store in airtight containers. May be stored in freezer.
Makes 4 dozen.
Recipe and photograph provided courtesy of Wisconsin Milk Marketing Board, Inc.