Sugar Cookie Christmas Trees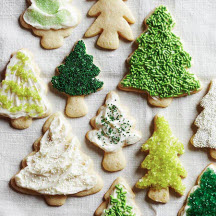 What's Christmas without classic sugar cookies? Gather family, friends, and frosting, then get decorating. For extra glam, use festive shades of edible glitter — your sugar cookie trees will be twinkling in no time.
Recipe Ingredients:
1/3 cup butter, softened
1/3 cup vegetable shortening
3/4 cup granulated sugar
1 teaspoon baking powder
1 large egg
1 tablespoon milk
1 teaspoon vanilla extract
2 cups all-purpose flour
Dash salt
Royal Icing:
2 cups sifted powdered sugar
4 teaspoons meringue powder
1/4 teaspoon cream of tartar
1/4 cup warm water
1 tablespoons warm water

Decorative sprinkles
Cooking Directions:
In a large mixing bowl, beat butter and shortening with an electric mixer for 30 seconds. Add sugar, baking powder, and salt; beat until combined. Beat in egg, milk, and vanilla until combined.
Beat in as much of the flour as you can with the mixer. Stir in any remaining flour. Divide dough in half. Cover; chill dough about 1 hour or until easy to handle.
Preheat oven to 375°F (190°C).
On a lightly floured surface, roll half of the dough at a time to 1/8 to 1/4-inch thickness. Using desired tree-shaped cookie cutters, cut out dough.
Place about 1 inch apart on ungreased cookie sheets. Bake for 7 to 9 minutes or until the edges are firm and bottoms are very lightly browned.
Transfer to a wire racks and let cool. Frost with Royal Icing and decorate with sprinkles.
For Royal Icing: Stir together powdered sugar, meringue powder, and cream of tartar. Add the 1/4 cup warm water. Beat with an electric mixer on low speed until combined. Beat on high speed for 7 to 10 minutes until very stiff. Add the 1 to 2 tablespoons additional water, 1 teaspoon at a time, to make desired consistency.
Makes 36 to 48 (2 1/2-inch) cookies.
Recipe and photograph provided by Better Homes and Gardens - BHG.com a member of the Home and Family Network for the best of cooking, gardening, decorating and more. © Meredith Corporation. All Rights Reserved.