Tombstone Sandwiches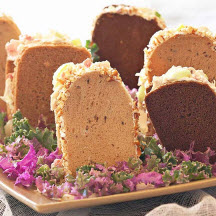 For a ghoulish treat, these small sandwiches stand upright on a graveyard of cream cheese covered in creepy cabbage. They are hauntingly delicious!
Recipe Ingredients:
2 cups diced cooked chicken
1 cup diced celery (2 stalks)
1/2 cup diced green apple
3 slices bacon, crisp cooked, drained, and crumbled
1/2 cup dairy sour cream
1 cup mayonnaise or salad dressing
2 tablespoons lemon juice
Salt and freshly ground black pepper to taste
28 slices firm whole wheat and/or rye bread, trimmed into tombstone shapes
1 (8-ounce) container whipped cream cheese
Finely chopped toasted pecans
Purple kale
Cooking Directions:
In a large bowl, combine chicken, celery, apple, and bacon.
In a medium bowl, stir together sour cream, mayonnaise, and lemon juice. Add to chicken mixture; stir to coat. Season to taste with salt and pepper. Cover; chill for 2 to 24 hours.
To make tombstone sandwiches, spread chicken salad on half of the bread tombstones. Top with remaining bread tombstones . Spread the edges of sandwiches with cream cheese and roll edges in pecans to coat. Use cream cheese to stick tombstones to plate. Add purple kale for a creepy groundcover.
Makes 14 tombstones.
Recipe and photograph provided by Better Homes and Gardens - BHG.com a member of the Home and Family Network for the best of cooking, gardening, decorating and more. © Meredith Corporation. All Rights Reserved.