Vanilla-Chai Icebox Shortbread Cookies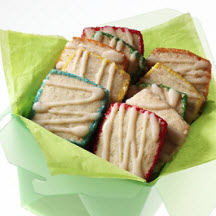 This is a tender iced shortbread cookie laced with traditional winter holiday spices.
Recipe Ingredients:
2 1/3 cups all-purpose flour
2 teaspoons pumpkin pie spice
2 teaspoons ground ginger
1/2 teaspoon ground allspice
1/2 teaspoon ground cardamom
1 cup (2 sticks) unsalted butter, softened
1 cup granulated sugar
3 tablespoons honey
1/4 teaspoon salt
2 large egg yolks
1 medium vanilla bean
Icing:
1 cup confectioner's sugar, sifted
2 teaspoon pure vanilla extract
More vanilla bean seed scraping, if desired
1 tablespoon water
Cooking Directions:
In a large bowl, sift or whisk together flour, pumpkin pie spice, ginger, allspice and cardamom. Set aside.
Combine butter, sugar, honey and salt in a bowl. Using an electric mixer or wooden spoon, beat until light and fluffy. Add the egg yolks, one at a time, and beat until smooth.
Using a small knife, split the vanilla bean lengthwise in half. Scrape the seeds from both sides of the pod with the tip of the knife and add them to the butter-sugar mixture. Beat to combine.
Add in flour-spice mixture, 1 cup at a time, blending until fully incorporated.
Divide the dough in half and transfer each half to a sheet of wax paper. Using the wax paper, shape into a 12-inch log, rectangle or square. Chill logs at least 2 hours or overnight.
Preheat oven to 350ºF (175ºC) with an oven rack in the middle. Line two baking sheets with parchment paper.
With a sharp knife, cut logs into 1/8-inch-thick slices and arrange 1/2 inch apart on baking sheets. Bake until lightly browned around edges, about 10 to 12 minutes. Transfer to racks to cool.
In a small bowl, whisk together icing ingredients until smooth and transfer to a sealable plastic bag. Cut an 1/8-inch opening in one corner of bag. Arrange cookies as close together as possible on sheets of wax paper and drizzle icing decoratively across the tops.
Makes about 2 to 2 1/2 dozen.
Recipe and photograph provided courtesy of Wisconsin Milk Marketing Board, Inc.