Wave the Flag Cupcakes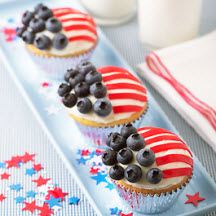 Serve up some patriotic fun with these crowd-pleasing cupcakes topped with the colors of Old Glory.
Recipe Ingredients:
1 (18 to 19-ounce) package yellow cake mix
1/3 cup applesauce
3 large egg whites
3 cups fresh blueberries - divided use
1 (8-ounce) package reduced-fat cream cheese, softened
1/2 cup powdered sugar
1 teaspoon vanilla extract
1 roll red-colored rolled fruit snack (from a 4.5-ounce box)
Cooking Directions:
Preheat oven to 350°F (175°C).
In a large mixing bowl, beat cake mix with applesauce, egg whites and 1 1/4 cups water for 30 seconds on low speed, then 2 minutes on medium speed.
Spoon batter into 24 (2 1/2-inch) aluminum or paper lined muffin cups.
Evenly divide 1 cup of blueberries onto tops of batter. Do not stir.
Bake cupcakes following package directions.
Remove to a wire rack and cool completely.
In a small bowl, beat cream cheese, powdered sugar and vanilla until smooth.
Spread onto cooled cupcakes to the edges.
Unroll fruit snack and, with a sharp knife, cut into strips 1/8-inch wide by 2-inch long.
On half of each cupcake, arrange strips, trimming each to fit.
Arrange remaining 2 cups blueberries on the frosting on other halves of the cupcakes, about 10 blueberries per cupcake.
Makes 24 cupcakes.
Recipe and photograph are courtesy of the US Highbush Blueberry Council. Used with permission.