Chapatis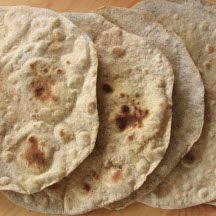 These discs of unleavened bread have a delicious flavor and chewy texture. Known also by several other names including parathas, flatbread and fry bread. In India they are cooked on the tawa or griddle and are held for a moment or two right over the fire. This makes them puff up like balloons. You can do this over a gas flame holding them with kitchen tongs.
Recipe Ingredients:
3 cups all-purpose flour - divided use
1 to 1 1/2 teaspoons salt
1 tablespoon ghee or vegetable oil (optional)
1 cup lukewarm water
Cooking Directions:
Whisk together 2 1/2 cups flour with the salt, reserving 1/2 cup flour for rolling chapatis. Next rub in the ghee or oil, if desired. Add water all at once and mix to make a soft but pliable dough. (Dough should not be stiff.)
Knead dough on a lightly floured surface for at least 10 minutes (the more it is kneaded, the lighter the bread will be).
Form dough into a ball, cover with clear plastic wrap and stand for 1 hour or longer. If left overnight, the chapatis will be very light and tender.
Shape dough into balls about the size of a large walnut. roll out each one on a lightly floured board (using reserved flour) to a circular shape as thin as a French crepe.
Heat a griddle or heavy well-seasoned iron skillet until very hot, and cook the chapatis, starting with those that were rolled first. Cook for about 1 minute, turn and cook the other side, pressing lightly around the edges of the chapati with a folded tea towel, this encourages bubbles to form and makes the chapatis light. Wrap in a clean tea towel until all are ready to use.
Serve immediately.
Makes 20 to 24 chapatis.
Tip: These may also be fried in hot oil.