Chiffon Honey Cake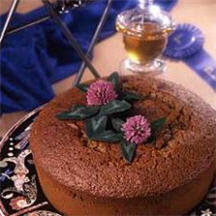 An elegant light-as-air, honey-sweetened chiffon spice cake.
Recipe Ingredients:
1 tablespoon instant coffee granules
2/3 cup brewed strong hot coffee
1 teaspoon baking soda
6 large eggs, separated
1/2 teaspoon cream of tartar
2 cups all-purpose flour
3/4 cup finely ground walnuts
1/2 cup granulated sugar
1 teaspoon baking powder
1/2 teaspoon ground cinnamon
1/2 teaspoon ground cloves
1/2 teaspoon ground nutmeg
1/4 teaspoon salt
1 cup honey
1/2 cup vegetable oil
Cooking Directions:
Preheat oven to 350°F (175°C).
Add instant coffee granules to hot coffee; mix well. Add baking soda and set aside.
Beat egg whites, adding cream of tartar while beating, until stiff.
Combine all ingredients except egg whites and mix until batter is smooth. Carefully fold in egg whites.
Pour batter into ungreased angel food cake pan.
Bake for 1 hour or until cake tester inserted in center comes out clean or cake springs back when lightly touched on top. Do not over-bake.
Invert pan onto neck of bottle. Cool thoroughly before removing cake from pan.
Makes 12 servings.
Recipe and photograph provided courtesy of the National Honey Board.