Honey Mandelbrot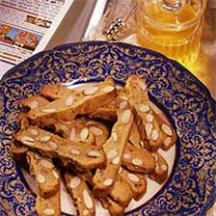 Natural, pure golden honey sweetens these crunchy nut bars that are similar to Italian biscotti. Mandelbrot, which literally means almond (mandel) bread (brot), is a popular dessert among Eastern European Jews.
Recipe Ingredients:
3 large eggs, separated
1/4 cup margarine, softened
1 cup matzo cake meal
1/2 cup honey, heated - divided use
1 teaspoon grated orange peel
3/4 cup whole almonds
Cooking Directions:
Separate eggs. Beat yolks until light; beat in margarine until blended. Stir in matzo cake meal, 1/4 cup honey and orange peel.
Beat egg whites until stiff but not dry. Slowly pour remaining honey in a thin stream into egg whites while beating.
Fold egg white mixture into yolk mixture until blended. Stir in almonds.
Pour half of batter into each of 2 (8x4x2 1/2-inch) loaf pans.
Bake in a preheated oven at 350°F (175°C) for 30 to 35 minutes or until wooden pick inserted in center comes out clean.
Remove loaves from pans; cut in 1/2-inch slices. Place cut-side up on greased baking sheet.
Return to oven and bake at 250°F (120°C) for 25 to 30 minutes longer or until lightly browned.
Cool completely and serve or store in airtight container.
Makes 32 bars.
Tip: Since honey is hygroscopic (able to absorb moisture from the atmosphere), Honey Mandelbrot may require crisping after a few days of storage. Bake at 250°F (120°C) for about 20 minutes, cool and serve.
Recipe and photograph courtesy of the National Honey Board.