American Lamb Shank with Espresso Reduction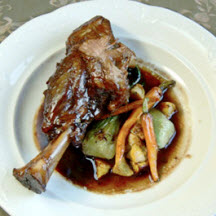 Recipe courtesy of the American Lamb Board.
Recipe Ingredients:
4 American Lamb shanks, trimmed of fat
4 tablespoons olive oil - divided use
8 fresh kari (curry) leaves
1 sprig rosemary
1/2 tablespoon cumin seeds
8 pieces star anise
3/4 teaspoon ground white pepper
1-inch piece ginger
2 cloves garlic, sliced
1/2 stick cinnamon
2 1/2 cups vegetable broth (see preparation tip)
1/2 cup soy sauce
1 tablespoon oyster sauce
2/3 cup espresso or instant espresso, brewed
1/2 teaspoon granulated sugar
2 tablespoons butter, chilled
4 baby bok choy, cut in halves, lengthwise
8 baby carrots, halved
2 patty pan squash, quartered
Salt and ground black pepper to taste
Cooking Directions:
Heat 2 tablespoons of olive oil in a large stock pot. Add the kari leaves, rosemary, cumin seeds, star anise, white pepper, ginger, garlic and cinnamon stick. Stir constantly until the garlic turns brown, taking care not to let spices burn.
Add the vegetable broth, soy sauce and oyster sauce. Bring to a boil. Add the lamb and reduce the heat to low. Cover and simmer for 3 hours or until shank meat is tender, stirring occasionally to ensure meat is evenly cooked.
While the lamb is cooking, toss the vegetables with remaining olive oil, salt and pepper. Grill vegetables until tender. Keep warm.
Once the lamb is tender, remove it from the pot and keep warm. Reduce the remaining sauce by 25 percent. Strain the liquid through a fine mesh strainer into a sauce pan and discard the solid ingredients. Skim off any fat from liquid.
Add the espresso and sugar to the liquid. Stir for 3 minutes and turn off heat. Add the cold butter 1 piece at a time, stirring constantly until the butter dissolves.
To Serve: Divide the grilled vegetables into 4 portions and place in center of 4 soup plates. Top with a lamb shank and drizzle sauce around each plate.
Makes 6 servings.
Preparation Tip: Basic Vegetable Broth. You can buy prepared vegetable broth or stock in most grocery stores. Or you can make your own: Combine in a sauce pan: 4 cups of water, 2 celery ribs, cut into medium pieces, 1 small carrot, cut into medium pieces, onion, roughly chopped, a parsley sprig, 4 to 6 peppercorns, and a small bay leaf. Bring to a boil, reduce heat and simmer about 1 hour. Add salt to taste. Strain the broth into a container and refrigerate until ready for use. Discard the vegetables. Makes about 3 cups.
Nutritional Information Per Serving (1/4 of recipe): Calories: 460; Total Fat: 26g; Cholesterol: 125mg; Total Carbs: 15g; Fiber: 5g; Protein: 43g; Sodium: 2520mg.
Recipe and photograph courtesy of the American Lamb Board.