Ground California Lamb Ragu with Egg Noodles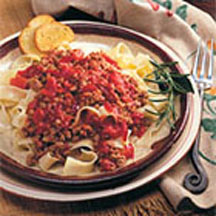 Italian-style meat sauce made with ground lamb and served over egg noodles.
Recipe Ingredients:
2 tablespoons olive oil
1 teaspoon crushed garlic
1 pound ground California lamb meat, preferably from shoulder
2 (14.5–ounce) cans tomatoes with basil, garlic, and oregano
2 jarred roasted red peppers, diced
1 (8-ounce) can tomato sauce
1/2 cup dry white wine
1 teaspoon dry crushed rosemary
1/4 to 1/2 teaspoon red pepper flakes
Salt and pepper, to taste
1 pound wide egg noodles, cooked
Cooking Directions:
In large saucepan, heat oil over high heat. When hot, add garlic and sauté until light brown but not burnt. Add meat and fry until brown. Add remaining ingredients and stir thoroughly. Reduce heat and simmer until sauce thickens, about 15 minutes.
Meanwhile prepare egg noodles according to package directions. (For an alternative serve over soft polenta seasoned with Parmesan cheese and butter.)
Makes 6 servings.
Recipe and photograph provided courtesy of the California Sheep Commission.