Stuffed Peppers with Lamb, Feta, Couscous and Black Olives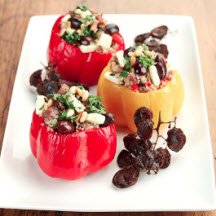 Recipe courtesy of the Meat and Livestock Australia.
Recipe Ingredients:
1 teaspoon olive oil
1 large onion, peeled and finely chopped
3 cloves garlic, peeled and crushed or finely chopped
1 1/2 pounds ground lamb
1 teaspoon dried oregano
1 cup dry red wine
1 cup crushed tomatoes
1 pinch ground nutmeg
1 pinch ground cinnamon
1/2 cup couscous
3/4 cup crumbled feta
1/3 cup pine nuts, lightly toasted
1/2 cup kalamata olives, pitted
1 bunch flat-leaf parsley, roughly chopped
10 large bell peppers
Extra olive oil
1 to 2 cups fresh tomato or marinara sauce (optional)
Cooking Directions:
Heat olive oil in a heavy-based pan and gently fry onion and garlic until onion begins to color. Increase heat, add the ground lamb and brown well, breaking up thoroughly. Add the oregano, red wine, crushed tomatoes, nutmeg and cinnamon and simmer gently for 1 hour, until meat has cooked and sauce is thick.
Prepare couscous according to package directions.
Mix meat with couscous, feta, pine nuts, olives and parsley.
Cut tops off bell peppers and remove seeds and membranes as thoroughly as possible. Brush with oil and stuff with lamb mixture.
Bake the stuffed bell peppers in a 350°F (175°C) oven, until the bell pepper skins begins to wrinkle, about 40 minutes. Serve with fresh tomato sauce poured around, if desired.
Makes 10 servings.
Recipe and photograph courtesy of the Meat and Livestock Australia.