All Blue Idaho® Potato Tabouli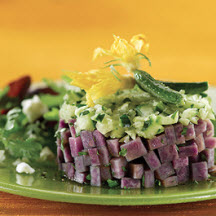 Recipe courtesy of Giuseppe Tentori, Executive Chef at the Boka and Perennial in Chicago, Illinois.
Recipe Ingredients:
1 tablespoon red-wine vinegar
2 pounds Idaho® All Blue Potatoes, peeled, small dice
4 tablespoon chopped parsley
1 ounce extra-virgin olive oil
1 tablespoon sherry vinegar
Juice of 2 lemons
Salt and ground black pepper to taste
2 English (seedless) cucumbers, chopped fine
6 mini cucumbers with blossoms (optional)
6 ounces crumbled feta cheese
Asian mesclun mix, as needed
Cooking Directions:
Bring salted water to boil in medium pan. Add red-wine vinegar and then diced potatoes. Cook until just al dente. Shock potatoes in ice bath. Drain well and pat dry.
In large bowl, combine potatoes, parsley, olive oil, sherry vinegar, lemon juice, salt and pepper.
Place 4-inch ring mold in the center of each plate. Pack potato mixture firmly into each ring mold (reserve extra vinaigrette in bowl). Spread chopped cucumber atop. Carefully remove ring molds. Top tabouli with mini cucumber (optional).
Garnish plate with feta cheese and Asian greens. Drizzle greens with remaining vinaigrette.
Makes 6 servings.
Recipe and photograph courtesy of the Idaho Potato Commission.