Angel Hair Pasta with Lemon and Garlic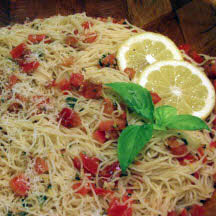 This makes a light, satisfying main course, ideal for a hot summer's day supper.
Recipe Ingredients:
16 ounces angel hair pasta
1/2 cup fresh basil, coarsely chopped
1/2 cup freshly grated Parmesan cheese
2 tablespoons extra virgin olive oil
8 cloves garlic, finely minced
1 1/4 cups dry white wine
1/2 cup fresh lemon juice
2 1/2 cups seeded and chopped vine-ripe tomatoes
1 teaspoon kosher or sea salt
1/4 teaspoon freshly ground black pepper or to taste
Additional freshly grated Parmesan cheese for sprinkling (optional)
Cooking Directions:
Measure and prepare all ingredients in advance.
Cook the pasta and place in large serving bowl. Add the basil and Parmesan cheese; set aside and keep warm.
In large a skillet heat the olive oil and saute the garlic just until it begins to change color. Remove skillet from heat and add the wine. Return to the heat and cook for another 2 to 3 minutes, or until the wine has been reduced by half. Stir in the lemon juice and tomato and remove from heat.
Pour hot lemon/tomato mixture over pasta mixture in the serving bowl, add salt and pepper to taste. Toss to mix.
Serve topped with a sprinkling of Parmesan cheese, if desired.
Make 6 servings.
Nutritional Information Per Serving (1/6 of recipe): 413.0 calories; 17% calories from fat; 8.2g total fat; 7.3mg cholesterol; 452.8mg sodium; 378.1mg potassium; 62.9g carbohydrates; 2.9g fiber; 2.2g sugar; 60.0g net carbs; 13.9g protein.
Recipe and photograph by Hope Cantil; Copyright © 1999; property of CooksRecipes.com. See Terms of Use.