Artichoke with Confetti Brie Sauce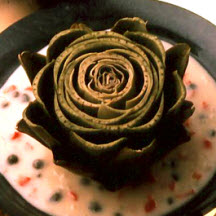 Recipe courtesy of California Artichoke Advisory Board.
Recipe Ingredients:
4 large artichokes
1/4 cup minced onion
2 tablespoons olive oil
1/4 cup dry white wine
1 cup milk
2 teaspoons cornstarch
5 ounces Brie cheese, rind removed and cheese cubed
1/4 cup red pepper, chopped
1 tablespoon capers
Cooking Directions:
Pull off lower, outer petals of artichokes; cut off top third of artichokes. Cut stems to one inch or less.
Stand prepared artichokes in deep saucepan or pot with 3-inch boiling salted water. (If desired, oil, lemon juice and seasonings can be added to cooking water.) Cover and boil gently 25 to 40 minutes depending on size or until petal near center pulls out easily. Stand artichoke upside down to drain.
Sauté onion in oil until translucent; stir in wine and heat 1 minute.
Combine milk and cornstarch; stir into wine mixture and cook two minutes or until thickened.
Stir in cheese one cube at a time over low heat until smooth. Stir in red peppers and capers.
To Serve: Spoon 1/4 of cheese mixture onto each serving plate; arrange artichoke in center.
Makes 4 servings.
To Microwave Artichokes: Prepare artichokes as directed above; place in deep microwave-safe cup or bowl. Add 1 cup water; cover and microwave at HIGH (100%) 12 to 15 minutes Give dish a quarter-turn halfway through cooking time. Let stand 5 minutes When done, petal near center will pull out easily.
Recipe and photograph courtesy of California Artichoke Advisory Board.