Cheesy Soufflé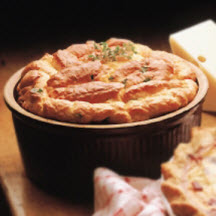 This impressive cheese soufflé is light, airy and melt-in-your-mouth delicious.
Recipe Ingredients:
1/4 cup butter
1/4 cup all-purpose flour
1 1/2 cups milk
1/4 teaspoon salt
1/8 teaspoon cayenne pepper
2 cups (8 ounces) shredded colby cheese
6 large eggs, separated
2 tablespoons parsley, chopped
1/4 teaspoon thyme (optional)
Cooking Directions:
Preheat the oven to 325°F (160°C).
In a 2-quart saucepan, melt the butter and stir in the flour. Gradually add the milk; stirring until smooth. Cook, stirring constantly, until the sauce is thickened. Stir in the salt and cayenne. Add the cheese and heat, stirring just until the cheese melts. Remove the cheese sauce from the heat.
In a small bowl, beat the egg yolks slightly.
Add a small amount of hot cheese sauce to the egg yolks; beat.
Return the saucepan to heat, and slowly add the egg mixture, stirring constantly to prevent lumping. Stir in the parsley and thyme. Set aside.
Beat the egg whites until stiff peaks form.
Gently fold the cheese mixture into the egg whites.
Pour into a 2-quart, lightly greased soufflé dish or straight-sided casserole. With the tip of a spoon, make a slight indentation, or "track," around top of soufflé, one inch from the edge of the dish to make the crown that will rise on the soufflé.
Bake for 45 to 60 minutes or until deep golden brown and the center is set.
Makes 6 servings.
Recipe and photograph provided courtesy of Wisconsin Milk Marketing Board, Inc.