Creamy Risotto with Cheeses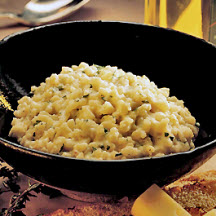 For a pungent, earthy flavor that brings out the full flavor of the cheeses, add a few drops of white truffle oil to the risotto a few seconds before plating.
Recipe Ingredients:
2 teaspoons vegetable oil
1 cup mild white onion, finely chopped
2 garlic cloves, smashed into a paste
1 1/2 cups arborio rice (if you want a creamier style, try cracked arborio
1 3/4 cups vegetable stock
Pinch salt
Freshly ground pepper, to taste
1/4 cup grated Parmesan cheese
1/2 cup shredded fontina cheese
3 tablespoons Italian parsley, chopped
White truffle oil, to taste (optional)
Cooking Directions:
Heat a 2-quart, thick-bottomed sauce pan. Add the oil, then the onion and garlic. Cook, stirring until the onion is translucent.
Add the rice and stir to coat it with the onion mixture. Add the stock, slowly, 1/2 cup at a time, as the rice absorbs the liquid. Continue to stir slowly. When most of the liquid is added and the rice has a firm texture and is cooked through, add a pinch of salt and fresh turns of pepper.
Stir in the fontina cheese, then the Parmesan. If the mixture is dry, add a little more stock.
Taste and season, as necessary. Stir in the parsley and white truffle oil.
Distribute the risotto into four bowls. Sprinkle with additional herbs for a colorful finish.
Makes 4 main dish or 8 side dish servings.
Recipe and photograph provided courtesy of Wisconsin Milk Marketing Board, Inc.