Crêpes with Wild Mushrooms, Asparagus and Brie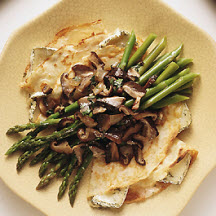 Wedges of Brie cheese are tucked around tender, folded crêpes and topped with steamed asparagus and a garlicky wild mushroom and tarragon sauce.
Recipe Ingredients:
8 (8-inch) crêpes (see recipe for Basic Crêpes)
2 (8-ounce) wheels Wisconsin Brie cheese, sliced into 1/2 inch wedges
1 pound fresh asparagus
2 tablespoons butter - divided use
1 pound sliced wild mushrooms: mixture of crimini, shiitake and portobello
1 medium sweet onion, coarsely chopped
1 tablespoon coarsely chopped fresh garlic
1 (14.5-ounce) can vegetable broth
1/2 teaspoon coarse ground pepper
1/4 teaspoon salt
1/2 cup chopped fresh Italian parsley
1 tablespoon snipped fresh tarragon
Cooking Directions:
Fold Crêpes into quarters. Tuck wedges of Brie between folds. Place on cookie sheet; bake at 375°F (190°C) for 10 to 15 minutes or until cheese is melted.
Meanwhile, steam asparagus.
In skillet, melt 1 tablespoon butter over medium heat; add mushrooms, onion and garlic. Sauté until mushrooms are browned, 6 to 8 minutes. Add vegetable broth, pepper and salt. Cook for 10 to 15 minutes to develop flavors. Whisk in remaining 1 tablespoon butter, parsley and tarragon.
To serve, place 2 crêpes on individual plates. Arrange asparagus spears on plate; spoon mushroom mixture over crêpes.
Makes 6 servings.
Recipe and photograph provided courtesy of Wisconsin Milk Marketing Board, Inc.