Grilled Beany Zucchini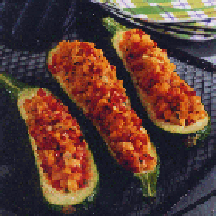 Hollowed out zucchini are stuffed with a savory Italian-seasoned bean filling and grilled just until the shells are crisp-tender.
Recipe Ingredients:
4 large zucchini, cut lengthwise into halves
1 cup chopped red bell pepper
1 cup chopped onion
2 teaspoons minced garlic
1 tablespoon olive oil
1 medium tomato, seeded, chopped
1 tablespoon fresh basil or 1 teaspoon dried basil leaves
1 (15-ounce) can garbanzo or red beans (1 1/2 cups), rinsed, drained and coarsely mashed
1/4 cup freshly grated Parmesan cheese - divided use
Cooking Directions:
Hollow out zucchini with sharp knife, leaving 1/4-inch shells; reserve shells. Chop zucchini that was removed.
Sauté chopped zucchini, bell pepper, onion, and garlic in oil in large skillet until crisp-tender, about 8 minutes. Add tomato and basil and sauté until tomato is wilted and mixture is fairly dry, about 5 minutes.
Add beans to side of skillet; coarsely mash about half the beans. Mix beans and 2 tablespoons cheese into zucchini mixture.
Spoon mixture into reserved zucchini shells; sprinkle with remaining 2 tablespoons cheese. Grill, covered, over medium-hot coals until zucchini shells are crisp-tender when pierced with a sharp knife, 10 to 15 minutes.
Makes 4 main-dish servings.
Nutritional Information Per Serving (1/4 of recipe): Calories 240; Fat 7 g; % Calories from Fat 24; Calcium 152 mg; Carbohydrate 37g; Folate 138 mcg; Sodium 327 mg; Protein 11 g; Dietary Fiber 9 g; Cholesterol 4 mg.
Recipe provided courtesy of The Bean Education & Awareness Network.