Grilled Tofu
with Chimichurri Sauce and Grilled Garlic Bread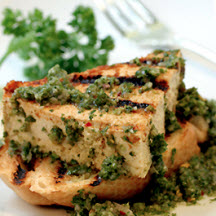 Recipe courtesy of The Soyfoods Council.
Recipe Ingredients:
Chimichurri Sauce:
2 cups lightly packed chopped parsley
4 garlic cloves, halved
1 teaspoon salt
1/2 teaspoon freshly ground pepper
1/2 teaspoon chili pepper flakes
2 tablespoons shallot or onion, minced
1/4 cup of vegetable or olive oil
3 tablespoons sherry wine vinegar or red wine vinegar
3 tablespoons lemon juice
Cumin Rub:
1 teaspoon granulated garlic
1/2 teaspoon smoked paprika or Hungarian paprika
1/2 teaspoon ground cumin
1 pound water-packed extra-firm tofu, cut in half lengthwise
olive oil
Grilled Garlic Bread:
8 pieces of crusty and dense Italian bread, cut 3/4 to 1 inch thick
4 large cloves garlic, peeled and cut in half
extra virgin olive oil
Cooking Directions:
For Chimichurri Sauce: Place all ingredients in a blender or food processor and pulse until well chopped, but not puréed. Set aside.
For Cumin Rub: Combine the garlic, paprika and cumin; mix well. Set aside.
Cut the tofu in half lengthwise to make 2 "steaks" about 3/4-inch thick. Brush lightly with olive oil. Press the Cumin Rub into both sides of the tofu steaks.
Place tofu steaks in a grill pan coated with oil or directly on the cooking grate over direct heat. Cook for 3 to 4 minutes. Turn the tofu steak with a pair of tongs and a flat spatula if necessary. Sear the second side and continue grilling until done, about 3 to 5 minutes. Cut each tofu steak in half to form 2 triangles. Serve with Chimichurri Sauce and Grilled Garlic Bread
For Grilled Garlic Bread: Place bread on grill rack or in grill pan. Cook, turning once, until golden on both sides, about 2 to 3 minutes per side. Rub 1 side of each piece of bread with a half clove of garlic; rub hard for good garlicky flavor. Place each piece of bread on a serving plate and brush with a thin coating of olive oil.
Makes 4 servings.
Recipe and photograph courtesy of The Soyfoods Council.