Moros y Cristianos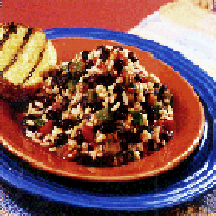 Moros y Cristianos is Spanish for Christians & Moors, with the black beans representing the dark-skinned Moors and the white rice representing the lighter-skinned Christians. Black beans and rice is a popular Cuban side dish served year-round, and traditionally eaten on New Year's Day to bring good fortune.
Recipe Ingredients:
1 cup chopped onion
1 cup chopped green bell pepper
2 teaspoons chopped garlic
1 1/2 teaspoons ground cumin
1 teaspoon dried thyme leaves
1/2 teaspoon crushed red pepper
1 bay leaf
1 tablespoon olive oil
1 cup uncooked long grain rice
1 (14.5-ounce) can diced tomatoes with green chiles
1 (15-ounce) can black beans, drained and rinsed (1 1/2 cups cooked)
2 cups water
1 tablespoon apple cider vinegar
1 teaspoon salt
1/2 teaspoon ground black pepper
Cooking Directions:
Sauté onion, bell pepper, garlic, cumin, thyme, crushed red pepper and bay leaf in olive oil until onion is tender, about 5 minutes. Stir in remaining ingredients
Heat to boiling. Reduce heat and simmer, covered, until rice is tender, about 20 minutes. Let stand 5 minutes before serving.
Makes 4 main-dish servings (about 1 1/2 cups each); or 8 side-dish servings (about 3/4 cups each).
Nutritional Information Per Serving (1/4 of recipe): Calories 341; Fat 5g; % Calories from Fat 13; Potassium 536mg; Carbohydrate 65g; Folate 133mcg; Sodium 917mg; Calcium 118mg; Protein 10g; Dietary Fiber 10g; Cholesterol 0mg.
Recipe provided courtesy of The Bean Education & Awareness Network.