Mushroom and Cheese Quesadillas with Mango Salsa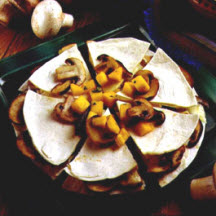 Recipe courtesy of the Mushroom Council.
Recipe Ingredients:
Fresh Mango Salsa:
2 cups diced fresh mango or peaches
2 tablespoons fresh lime juice
1 to 2 tablespoons chopped fresh cilantro leaves
1 tablespoon finely chopped fresh jalapeño (seeded or not)
1/4 teaspoon salt
Mushroom and Cheese Quesadillas:
1 pound mixed fresh mushrooms, thinly sliced (such as white, portabella and shiitake)
8 ounces Monterey Jack cheese, cut in thin slices
Vegetable oil, as needed
1 (4.5-ounce) can mild green chiles, well drained
1/2 cup finely chopped onion
1 teaspoon minced garlic
1/2 teaspoon salt
1/8 teaspoon ground black pepper
8 (6-inch) flour tortilla
Cooking Directions:
For Fresh Mango Salsa: Combine all ingredients in a small bowl. Makes 2 cups.
For Mushroom and Cheese Quesadillas: In a large skillet, over medium-high heat, heat 2 tablespoons oil until hot. Add mushrooms; cook and stir for 2 minutes; remove 1 cup for garnish; set aside. To remaining mushrooms, add green chiles, onion, garlic, salt and black pepper; cook and stir until mushrooms are tender and liquid evaporates, 3 to 4 minutes longer; remove from heat.
To Assemble Quesadillas: Spoon mushroom mixture on 4 tortillas, dividing evenly. Top with cheese slices and remaining tortillas.
In the cleaned skillet, over medium-high heat, heat 1 teaspoon vegetable oil. Add 1 quesadilla (pressing down lightly with spatula); cook until lightly browned on both sides and cheese melts, about 1 minute. Remove from skillet; keep warm. Repeat with remaining quesadillas using additional oil as needed.
Cut quesadillas in wedges; top with reserved mushrooms and fresh mango salsa.
Makes 8 servings.
Nutritional Information Per Serving (1/8 of recipe): Calories: 473; Total Fat: 15g; Saturated Fat: 7g; Cholesterol: 25mg; Total Carbs: 72g; Fiber: 7g; Protein: 17g; Sodium: 703mg; Potassium: 782mg.
Recipe and photograph courtesy of the Mushroom Council.