Mushroom Bulgogi Tacos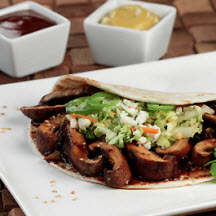 Recipe courtesy of the Mushroom Council.
Recipe Ingredients:
Bulgogi Marinade:
1/2 teaspoon grated fresh ginger
1 clove garlic, minced
1/4 cup grated fresh pear
a pinch red pepper flakes
4 teaspoons soy sauce
4 teaspoons apple juice
4 teaspoons brown sugar, packed
1 tablespoon rice wine vinegar
1 tablespoon thinly sliced green onion
1/2 teaspoon toasted sesame seeds
1/2 teaspoon sesame oil
Quick Kimchee Slaw:
1 1/2 cups shredded Napa cabbage
1 small carrot, shredded
2 green onions, thinly sliced
1/2 teaspoon red pepper flakes
1 small clove garlic, minced
1 teaspoon kosher salt
2 tablespoons rice wine vinegar
Tacos:
8 ounces white button mushrooms, halved
2 teaspoons canola oil
4 (6-inch) flour tortillas, warm
1/2 cup crumbled panela cheese (or basket cheese)
Thinly sliced jalapeños
Fresh cilantro sprigs, for garnish
Toasted sesame seeds, for garnish
Cooking Directions:
For Bulgogi Marinade: Whisk together all of the ingredients. Refrigerate. (Note: To use as a dipping sauce, bring the marinade to a simmer, then refrigerate.)
For Quick Kimchee Slaw: Combine the cabbage, carrots, onions, pepper flakes, garlic, and salt. Mix well; refrigerate for an hour. Squeeze out juices and put the kimchee in a clean bowl. Stir in the vinegar. Refrigerate until needed.
For Tacos: Heat a large skillet over medium high heat; add oil, then mushrooms. Cook for 2 minutes stirring occasionally until golden; turn.
Add the marinade and simmer until it is reduced to a glaze. Pour the glazed mushrooms into a serving dish.
To serve, top each tortilla with mushrooms, slaw, cheese, cilantro, jalapeño and a sprinkle of sesame seeds and fold in half to eat.
Makes 4 servings.
Nutritional Information Per Serving (1/4 of recipe): Calories: 140; Total Fat: 2g; Saturated Fat: 1g; Cholesterol: 0mg; Total Carbs: 21g; Fiber: 3g; Protein: 9g; Sodium: 660mg.
Recipe and photograph courtesy of the Mushroom Council.