Textured Soy Protein Biscuits and Gravy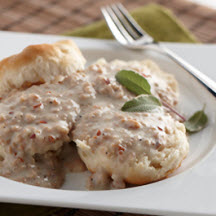 Recipe by Chef George Formaro of the Gateway Market and Café, Centro and DJango in Des Moines, Iowa.
Recipe Ingredients:
1 cup textured soy protein (TSP or TVP)
1 teaspoon soy sauce
2 teaspoons ground fennel
1/4 teaspoon ground thyme
1 pinch red pepper flake (optional)
1/4 teaspoon garlic powder
1/4 teaspoon onion powder
1 teaspoon black pepper
2 teaspoons seasoned salt
3/4 cup hot water
2 tablespoons butter
1/2 cup all-purpose flour - divided use
3 cups milk
2 biscuits or breaded portobello mushrooms
Cooking Directions:
In a small bowl, add first 9 ingredients, mix together. Add hot water, stir: Let the mixture sit for at least 10 minutes.
In a small sauce pan, over medium heat, add butter, melt. Add TVP mixture, stir and lightly brown (be careful not to burn).
Add flour, stir until flour is well incorporated. Slowly whisk in half of the milk and then stir in the other half. Heat thoroughly; simmer on low heat about 10 minutes.
Serve over hot biscuits or breaded portobello mushrooms.
Makes 2 servings.
Recipe and photograph courtesy of The Soyfoods Council.