Autumn Apple Pie & Double Pastry Crust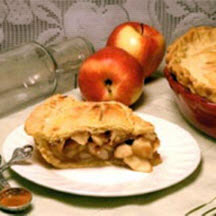 Fill your home with the aroma of fall as this classic, double-crusted, cinnamon-spiced apple pie bakes!
Recipe Ingredients:
Pastry For Double Crust Pie:
2 cups pastry flour or all-purpose flour
1 teaspoon salt
2/3 cup vegetable shortening
5 to 6 tablespoons cold water
Apple Pie:
5 to 7 medium sized tart cooking apples
3/4 to 1 cup granulated sugar
2 tablespoons all-purpose flour
1/8 teaspoon salt
1 teaspoon ground cinnamon
2 tablespoons butter
1 tablespoon lemon juice (optional)
Milk for brushing crust (optional)
Sugar for sprinkling (optional)
Cooking Directions:
To Make Pastry For Double Crust Pie: In medium bowl, sift together flour and salt. Add shortening; cut in with pastry blender or fork until the pieces are the size of small peas.
Add cold water by teaspoonfuls, toss with a fork until all the flour is barely dampened. Turn mixture into a square piece of waxed paper or pastry cloth. Press the mixture until a complete ball is formed. Divide in half for bottom and top crusts. Wrap crust in waxed paper and chill 1/2 hour for easier handling.
To Make Apple Pie: Wash apples; core and peel apples and slice thin.
In small bowl, combine sugar, flour, salt and cinnamon. Combine sugar mixture and apple slices, tossing lightly to combine.
Turn into pastry-lined 9-inch deep-dish pie plate, mounding apples high in center; dot with butter. (If apples aren't tart, drizzle lemon juice over the apples.)
Place on the top crust making several cuts or a design in center, for steam vents; adjust over filling and trim. Fold edge of top crust under bottom crust; press together with fingertips. Crimp edge decoratively. Lightly brush top crust with milk and sprinkle lightly with sugar.
Bake in a preheated 450°F (230°C) oven for 10 minutes, then reduce heat to 350°F (175°C) and bake for about 40 to 45 minutes or until apples are tender and crust is golden-brown.
Makes 8 servings.
Nutritional Information Per Serving (1/8 of recipe): 427 calories, 3 g protein, 66 g carbohydrates, 8 g fiber, 18 g fat (8 g saturated), 12 mg cholesterol, 3 mcg folate, 2 mg iron and 339 mg sodium.
Recipe and photograph courtesy of the Wheat Foods Council.