Butterscotch Pecan Perfection Pie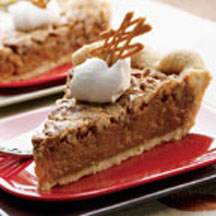 Your holiday table will look wonderful with this delicious butterscotch pecan pie.
Recipe Ingredients:
1 unbaked 9-inch (4-cup volume) deep-dish pie shell*
1 2/3 cups (11 ounce package.) NESTLÉ® TOLL HOUSE® Butterscotch Flavored Morsels - divided use
3/4 cup light corn syrup
3 large eggs, at room temperature
1 tablespoon all-purpose flour
1/4 teaspoon salt
1 1/2 cups pecan halves, coarsely chopped
1 1/2 cups whipped cream (optional)
Cooking Directions:
Preheat oven to 350ºF (175ºC).
Melt 1 1/3 cups morsels in medium, uncovered microwave-safe bowl on MEDIUM-HIGH (70%) power for 1 minute; STIR. Morsels may retain some of their shape. If necessary, microwave at additional 10 to 15-second intervals, stirring just until morsels are melted.
Add corn syrup, eggs, flour and salt to melted morsels. Beat on medium until smooth. Stir in pecans. Pour pecan mixture into pie shell.
Bake for 40 to 45 minutes or until knife inserted into center comes out with little bits of filling attached. If browning too quickly, cover with foil. Cool on wire rack for 2 hours. Refrigerate 1 hour or until serving time.
To Garnish and Serve: Line baking sheet with wax paper.
Place remaining morsels in heavy-duty plastic bag. Microwave on MEDIUM-HIGH (70%) power for 30 to 45 seconds; knead. Microwave at 10 to 15-second intervals, kneading until smooth. Cut tiny corner from bag. Drizzle 10 circular designs about 2 inches high and wide onto prepared baking sheet. Refrigerate for 5 to 10 minutes or until firm.
Place 10 dollops of whipped cream around edge of pie. Remove drizzle designs from refrigerator. With tip of knife, gently remove designs from wax paper and insert, standing up, into dollops. Serve immediately.
Makes 10 servings.
*If using frozen pie shell, use deep-dish style. Do not thaw. Bake on baking sheet.
Tips:
1/3 cup NESTLÉ® TOLL HOUSE® Semi-Sweet Chocolate Morsels can also be melted and made into drizzle designs instead of the Butterscotch Flavored Morsels.

Two shallow (2-cup volume) pie shells can be substituted for the one deep-dish pie shell. Follow directions above and bake for 30 to 35 minutes.
Recipe and photograph are the property of Nestlé® and Meals.com, used with permission.