California Walnut Tarts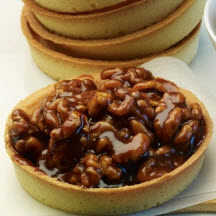 Taste the big crunch of walnuts in these simple-to-make, but oh-so-good tarts!
Recipe Ingredients:
2 large eggs
1/3 cup corn syrup
1/3 cup brown sugar, firmly packed
3 tablespoons water
3 tablespoons butter, melted
1/8 teaspoon ground ginger
1/8 teaspoonground cinnamon
12 frozen tart shells (about 2 1/2-inches)
3/4 cup California Walnut pieces
Cooking Directions:
In medium bowl, beat eggs until light and foamy; sitr in corn syrup, sugar, butter, water and spices.
Place 12 frozen tart shells on baking sheet (or home made pastry in tart tins); divide walnuts evenly among shells. Pour egg mixture over nuts
Bake in a preheated oven at 375°F (190°C) for 15 to 20 minutes or until golden brown.
Makes 12 tarts.
Recipe and photograph courtesy California Walnuts.