Caramel Frozen Yogurt Pie with Grilled Peaches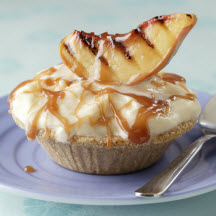 Grilling brings out the natural sugars of peaches. Serve this as a whole pie to slice or as individual tarts. A great end to a night out on the grill.
Recipe Ingredients:
2 pints vanilla frozen yogurt, premium
1 (9-inch) graham cracker pie crust, or 8 individual graham cracker pie crusts
1 1/4 cups caramel sauce
2 tablespoons butter, melted
2 tablespoons dark brown sugar
6 ripe peaches, halved and pitted
Cooking Directions:
Transfer 1 pint of frozen yogurt from freezer to refrigerator to soften for 30 to 40 minutes. Preheat the oven to 375 degrees F. Bake the pie crust until lightly browned and crisp, about 10 minutes. Set aside to cool.
To assemble the pie, spread the softened yogurt evenly over the pie crust. Place in the freezer and chill about 1 hour. When firm, spread about 3/4 cup of the caramel evenly over the frozen yogurt. Return the pie to the freezer, and transfer the second pint of frozen yogurt to the refrigerator. Allow pint to soften for 30 to 40 minutes. Spread the second pint of yogurt evenly over the caramel, making decorative swirls, if possible. Freeze until firm. Remove from freezer 10 minutes before serving.
To grill peaches, prepare a medium fire in a charcoal grill or preheat a gas grill on medium. Melt butter and stir in brown sugar until dissolved. Toss peaches with the butter mixture until well coated. Grill peaches directly over medium fire, cut-side up, until grill marks are visible, about 5 minutes. Turn peaches over and grill until grill marks show and peaches are tender, about 4 minutes longer. Set aside to cool. When cool, cut peaches into thick wedges.
When ready to serve, cut pie into wedges and serve with a mound of peaches on the side. Drizzle a little of the remaining caramel sauce over top.
Makes 8 servings.
Nutritional Information Per Serving (1/8 of recipe): Calories: 490 calories; Protein: 5 grams; Fat: 15 grams; Sodium: 329 milligrams; Cholesterol: 15 milligrams; Saturated Fat: 6 grams; Carbohydrates: 85 grams; Fiber: 2 grams.
Recipe and photograph provided courtesy of Pork, Be Inspired®.