Cherry Berry Pie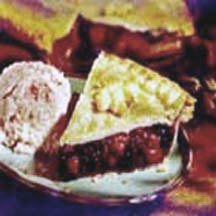 This juicy, triple fruit pie is sure to please and can be enjoyed year-round thanks to the convenience of canned fruit.
Recipe Ingredients:
2 prepared refrigerated 9-inch pie crusts
1 (16.5-ounce) can blackberries, drained
1 (16.5-ounce) can blueberries, drained
1 (16.5-ounce) can pitted tart pie cherries, drained
3/4 cup granulated sugar
1/3 cup all-purpose flour
Grated peel of one lemon
1 tablespoon lemon juice
Cooking Directions:
Preheat oven to 450ºF (230ºC). Bring crusts to room temperature as package directs. Fit one crust into 9-inch pie pan; don't trim.
In a large bowl, mix remaining ingredients and pour into pie shell. Lay second crust over filling. Fold top crust edge under edge of bottom crust, then crimp to seal; with knife, cut 4 vents in top crust. Chill 15 minutes.
Brush crust with milk or cream, if desired. Bake in center of oven 10 minutes; reduce oven to 350ºF (175ºC) and continue to bake 30 to 35 minutes longer, or until crust is golden and filling is bubbly. If needed, lay a sheet of foil over pie for last 10 to 15 minutes of baking to prevent over browning.
Makes 8 servings.
Recipe and photograph courtesy of the Canned Food Alliance.