Chestnut Apple Tart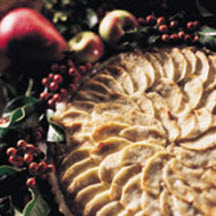 Tender slices of Granny Smith apple overlap each other atop chestnut pastry cream in this tantalizing tart created by Chef John Swanson.
Recipe Ingredients:
Crust:
1/2 of a 15-ounce package refrigerated pie crust (Fit dough into a 9 1/2-inch fluted tart pan; refrigerate until ready to use.)
Chestnut Pastry Cream:
2 egg yolks
1/2 cup granulated sugar
2 tablespoons all-purpose flour
2 tablespoons cornstarch
2 teaspoons vanilla extract
1 cup milk
1/2 cup fresh chestnut meats (may substitute walnuts)
Apple Topping:
3 Granny Smith apples, peeled, cored and thinly sliced
1/4 cup granulated sugar
2 tablespoons butter
Whipped Cream:
1 pint whipping cream
1 tablespoon granulated sugar
Cooking Directions:
For Chestnut Pastry Cream: In a large bowl, beat egg yolks and sugar until smooth. Add flour, cornstarch and vanilla; blend well.
In a large saucepan, bring milk to boil with chestnut meats. Cool slightly; purée mixture in a blender until smooth. Slowly add milk mixture to egg yolks, stirring constantly (careful not to cook egg mixture). Once all ingredients are combined, return pastry cream to sauce pan and cook over moderate heat, stirring constantly until thickened. Remove from heat; pour into shallow pan; cool in refrigerator. Once chilled, spoon cream into prepared crust.
For Apple Topping: Layer apple slices on top of pastry cream, starting along the outside edge. One by one, overlap each slice about half way, working in a circular motion until the center is reached. The entire tart should be covered with apple slices. Sprinkle with sugar. Dot sugar with butter.
Bake in a preheated oven at 350ºF (175ºC) until golden brown, approximately 60 minutes. Let cool for one hour before slicing to serve.
For Whipped Cream: Whip cream to soft peaks. Add one tablespoon sugar. Beat to stiff peaks. Serve atop individual tart slices.
Makes 6 to 8 servings.
Recipe and photograph provided courtesy of Wisconsin Milk Marketing Board, Inc.