Chocolate Cappuccino Decadent Pie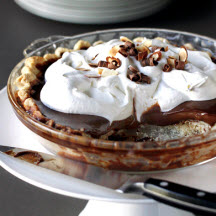 Dawn Gilday created this recipe using Perugina Cappuccino Chocolate Candy Bars to make a delicious pie filling. If they are hard to find you can substitute a 12-ounce package of Toll House Semi-Sweet Chocolate Morsels and 1 stick pack of Taster's Choice House Blend 100% Pure Instant Coffee.
Recipe Ingredients:
Crust:
2 cups all-purpose flour
1 1/2 teaspoons granulated sugar
1/2 teaspoon salt
1/3 cup chilled unsalted butter, cut into 1/2-inch pieces
1/3 cup vegetable shortening, chilled in freezer
5 to 8 tablespoons ice cold water
Parchment paper or aluminum foil
Pie weights, dry beans or rice
Filling:
5 (3.5-ounce) PERUGINA Cappuccino Chocolate Candy Bars, broken into pieces
3 tablespoons unsalted butter
1 (12-ounce) can NESTLÉ® CARNATION® Evaporated Milk
1/4 cup cornstarch
3 large eggs, beaten
1 teaspoon vanilla extract
Topping:
1 1/2 cups heavy whipping cream
3 to 4 tablespoons powdered sugar
2 tablespoons sliced almonds, toasted
Cooking Directions:
For Crust: Combine flour, sugar and salt in large bowl. Cut in butter and shortening with pastry blender or 2 knives until it resembles small peas. Add water 1 tablespoon at a time around the edge of bowl, mixing with a fork in between until dough holds together. Form dough into a ball, then flatten into a disk. Wrap tightly in plastic wrap; refrigerate for 30 minutes.
Preheat oven to 400°F (205°C).
Roll dough out with a rolling pin on a lightly floured surface to form a 14-inch circle, about 1/8-inch thick. Carefully transfer dough to 10-inch deep-dish pie plate. Fold extra pastry under around sides to build up edge. Flute edge by using the forefinger of one hand and pinching the dough next to it between your forefinger and thumb of the other hand. Continue around pie. Line pie crust with parchment paper or aluminum foil. Fill at least two-thirds full with pie weights, dry beans or rice.
Bake with weights for 20 minutes. Remove from oven; cool for a few minutes and carefully remove pie weights and parchment paper. Poke small holes in the bottom of the pie crust with a fork. Bake (without the weights) for an additional 10 minutes or until the crust is golden. Cool on wire rack.
For Filling: Melt broken chocolate bars (reserving ¼ bar) and butter in a double boiler over medium-low heat. Continue stirring until melted (this should take 6 to 10 minutes). Whisk evaporated milk and cornstarch together in medium bowl; beat in eggs. Stir into melted chocolate mixture along with vanilla extract. Cook, stirring frequently, for about 10 to 15 minutes or until mixture has thickened (consistency should be that of very thick syrup). Remove from heat and cool for approximately 15 to 20 minutes. Pour chocolate mixture into pie crust. Refrigerate for 4 hours or overnight.
For Topping: Pour cream into a well-chilled bowl and add powdered sugar. Beat until soft peaks form. Spoon over chocolate filling, making peaks with a spoon. Shave reserved chocolate bar over pie; sprinkle with almonds.
Makes 10 to 12 servings.
Recipe and photograph are the property of Nestlé® and Meals.com, used with permission.