French Silk Pie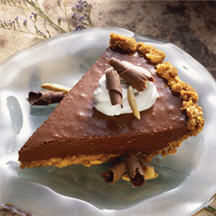 One of the classics, this rich chocolate pie has a filling that's as smooth as silk, making it an ideal dessert choice for entertaining.
Recipe Ingredients:
1 (9-inch) pre-baked pastry pie crust or graham cracker or nut crust
1 cup granulated sugar
1/4 teaspoon cream of tartar*
6 large eggs
1 tablespoon water
4 (1-ounce) squares unsweetened chocolate, coarsely chopped
1 1/2 teaspoon vanilla extract
1/2 cup (1 stick) butter, at room temperature
Cooking Directions:
Mix sugar and cream of tartar in medium saucepan. Add eggs and water; beat until well blended. Add chocolate; cook over low heat, stirring constantly, until chocolate is melted and temperature reaches 160°F (70°C). Do not allow to boil. Remove from heat immediately.
Cool quickly: Set pan in larger pan of ice water. Stir vigorously until temperature of mixture falls to 80°F to 90°F (approximately 30°C). Remove pan from ice water. Stir in vanilla.
Beat butter in mixer bowl on medium speed until light and fluffy, 3 to 4 minutes. Add cooled egg mixture; beat on high speed 4 to 5 minutes.
Pour into baked pie crust.
Refrigerate at least 6 hours before serving.
Makes 8 servings.
*This acidic ingredient promotes egg coagulation. Without it, this pie filling might not become firm enough to slice.
Nutritional Information Per Serving (1/8 of recipe): Calories: 501; Total Fat: 35g; Saturated fat: 18g; Polyunsaturated fat: 4g; Monounsaturated fat: 10g; Cholesterol: 190mg; Sodium: 124mg; Carbohydrates: 45g; Dietary Fiber: 3g; Protein: 8g; Vitamin A: 792.8IU; Vitamin D: 44.9IU; Folate: 32.1mcg; Calcium: 49.4mg; Iron: 3.7mg; Choline: 109.5mg.
Recipe and photograph provided courtesy of the American Egg Board (AEB) and Egg Nutrition Center (ENC).