Frozen Grasshopper Pie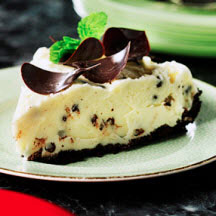 This classic 1950s minty ice cream cookie pie is sure to be a big hit with the whole family and it's very easy to make. Using canola oil in the crust and reduced fat ice cream or frozen yogurt in the filling makes it significantly lower in saturated fat than the typical version, but with all the indulgent taste intact.
Recipe by Ellie Krieger, a best-selling author and renowned registered dietitian.
Recipe Ingredients:
Canola oil cooking spray
1 1/4 cups finely crushed chocolate wafer cookies or chocolate graham cracker crumbs
3 tablespoons canola oil
4 cups mint chip reduced-fat ice cream or frozen yogurt, softened*
1/3 cup chocolate shavings (1 ounce chocolate)**
Cooking Directions:
Preheat oven to 350°F (175°C). Spray 9-inch pie dish with canola oil cooking spray.
In medium bowl, combine cookie crumbs and canola oil and mix until combined, then press mixture into prepared pie dish. Bake until fragrant, 6 to 8 minutes. Allow to cool completely.
In large bowl, place softened ice cream and mix well until uniform texture forms, similar to soft-serve ice cream. Fill cooled pie crust with ice cream, smoothing out top. Garnish with chocolate shavings, cover with plastic wrap and put back in freezer until solidly frozen, at least 4 hours.
When ready to serve, heat knife under hot water and use it to cut pie into slices.
Makes 8 servings.
*An ice cream or frozen yogurt without green food coloring is recommended.
**To make chocolate shavings, use a vegetable peeler to peel strips from a thick block of chocolate. If the chocolate crumbles as you make the shavings, put it in the microwave at 10-second intervals to soften it slightly.
Nutritional Information Per Serving (1/8 of recipe): Calories 290; Total Fat 14g; Saturated Fat 5g; Cholesterol 15mg; Sodium 190mg; Carbohydrates 36g; Fiber 1g; Protein 5g.
Recipe and photograph courtesy of CanolaInfo.org.