Lemon Chess Pie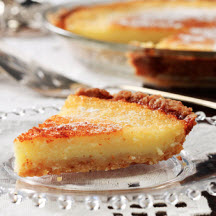 This Southern classic's name is a bit of a mystery, but the story goes that when asked what kind of pie the inventor made, she said "jes' pie"— and culinary history was made. This version has the requisite flaky pastry crust and sweet lemon custard filling but it's healthier with canola oil and a touch less sugar than the sticky-sweet traditional version, so the lemon really shines through.
Recipe by Ellie Krieger, a best-selling author and renowned registered dietitian.
Recipe Ingredients:
Crust:
Canola oil cooking spray
1/2 cup whole-wheat pastry flour*
1/2 cup all-purpose flour
1 teaspoon granulated sugar
1/4 teaspoon salt
1 1/2 tablespoons cold 1% low-fat milk
1/3 cup canola oil
Filling:
2 medium lemons
4 large eggs
1/4 cup low-fat buttermilk
1/4 cup canola oil
1 teaspoon vanilla extract
1 cup granulated sugar
2 tsp all-purpose flour
1/4 teaspoon salt
Garnish:
1 tablespoon powdered sugar
Cooking Directions:
Preheat oven to 350°F (175°C). Spray 9-inch pie plate with canola oil cooking spray.
For Crust: In a medium bowl, whisk whole-grain pastry flour, all-purpose flour, sugar and salt. Beat milk into canola oil until frothy. Make well in flour mixture, pour in canola oil mixture then combine with fork until crumbly. Pat mixture into prepared pie plate like graham cracker crust. Prick pie crust in several spots with fork. Line crust with foil and cover with pie weights or raw rice and bake for 20 minutes. Remove weights or rice and foil and bake for another 5 minutes. Allow to cool 5 minutes.
For Filling: Finely zest lemons and squeeze to get 1 tablespoon zest and 3 tablespoons juice.
In large mixing bowl, beat eggs with electric mixer. Add buttermilk, canola oil, vanilla, sugar, flour, salt, lemon juice and zest and beat until smooth.
Pour filling into pie shell and bake until pie is just set in center, about 30-40 minutes. Allow to cool completely, then sprinkle with powdered sugar.
Makes 8 servings.
*Whole-wheat, all-purpose flour can be substituted for whole-wheat pastry flour.
Nutritional Information Per Serving (1/8 of recipe): Calories 340; Total Fat 19g; Saturated Fat 2g; Cholesterol 105mg; Sodium 190mg; Carbohydrates 38g; Fiber 1g; Protein 5g.
Recipe and photograph courtesy of CanolaInfo.org.