Lemon Meringue Pie 2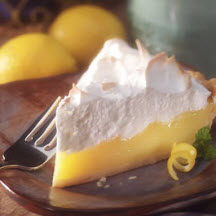 Recipe courtesy of The Incredible Edible Egg™.
Recipe Ingredients:
1 (9-inch) baked pastry pie crust, cooled
Filling:
1 1/2 cups granulated sugar
1/3 cup cornstarch
1/4 teaspoon salt
1 1/2 cups water
1/2 cup fresh lemon juice
5 large egg yolks, well beaten
2 tablespoons butter
1 to 3 teaspoons freshly grated lemon peel
Meringue:
1 tablespoon cornstarch
1/3 cup cold water
5 large egg whites, room temperature
1/4 teaspoon cream of tartar
1/2 cup granulated sugar
1/2 teaspoon vanilla extract
Cooking Directions:
Preheat oven to 325°F (160°C).
For Filling: Mix sugar, cornstarch and salt in large heavy saucepan. Gradually stir in water and lemon juice until smooth. Add egg yolks; stir until blended. Add butter.
Cook over medium heat, stirring constantly, until mixture thickens and comes to a boil. Reduce heat; simmer, stirring constantly, 1 minute. Remove from heat. Stir in lemon peel; set aside.
Immediately make Meringue: Dissolve cornstarch in cold water in small saucepan; bring to a boil, stirring constantly. Remove from heat; cover.
Beat egg whites and cream of tartar in mixer bowl with whisk attachment on high speed until foamy. Beating constantly, Add sugar, 1 tablespoon at a time, beating after each addition until sugar is dissolved before adding the next. Continue beating until whites are glossy and stand in soft peaks. Beating constantly, add cornstarch paste, 1 to 2 tablespoons at a time. Beat in vanilla extract.
Pour hot filling into pie crust. Quickly spread meringue evenly over filling, starting at edge and sealing to crust all around; swirl with back of spoon. Bake in upper third of a preheated 325°F (160°C) oven until lightly browned, 16 to 18 minutes. Cool on wire rack 30 minutes to 1 hour.
Makes 8 servings.
Pie Crust Options: Pie can be made with any standard baked 9-inch pie crust, graham cracker crumb crust or gingersnap crumb crust.
Nutritional Information Per Serving (1/8 of recipe): Calories: 498; Total Fat: 19g; Saturated Fat: 6g; Cholesterol: 165mg; Total Carbs: 76g; Fiber: 1g; Protein: 7g; Sodium: 263mg.
Recipe and photograph courtesy of The Incredible Edible Egg™.