Roasted Banana Cream Pie with Butterscotch Ganache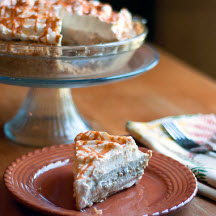 This is one banana cream pie that is well worth the effort. In fact, it's so good it was a finalist in the Nestlé Kitchens Pie Recipe Contest. Recipe by Lorie Roach.
Recipe Ingredients:
Crust:
2 cups finely crushed vanilla wafers
6 tablespoons melted butter
Ganache:
1 1/4 cups NESTLÉ® TOLL HOUSE® Butterscotch Flavored Morsels
1 tablespoon butter
6 tablespoons heavy whipping cream
Filling:
3 bananas, sliced
2 tablespoons melted butter
3 tablespoons light brown sugar
1/2 teaspoon ground cinnamon
1 1/4 cups whole milk - divided use
1 envelope (about 2 1/2 teaspoons) unflavored gelatin
1 (12-ounce) can NESTLÉ® CARNATION® Evaporated Milk
1/2 cup light brown sugar, firmly packed
2 tablespoons cornstarch
2 large egg yolks
2 tablespoons butter, at room temperature
1 teaspoon vanilla extract
Topping:
1 1/2 cups cold, heavy cream
3 tablespoons powdered sugar
1/2 teaspoon vanilla extract
Cooking Directions:
For Crust: Preheat oven to 350°F (175°C). Stir together crushed vanilla wafers and 6 tablespoons melted butter. Press onto bottom and sides of 9 1/2 to 10-inch glass pie plate. Bake for 10 minutes.
For Ganache: Melt butterscotch morsels, 1 tablespoon butter and 6 tablespoons heavy cream in the top of a double boiler or glass bowl placed over simmering water, whisking until smooth. Set aside 3 tablespoons in a small cup and cover for later use. Spread the remaining ganache evenly over the pie crust then place in refrigerator.
For Filling: Place bananas in medium baking dish. Drizzle with 2 tablespoons melted butter and sprinkle with 3 tablespoons brown sugar and cinnamon. Bake at 350°F (175°C), stirring occasionally, for 30 minutes or until bubbly and caramelized.
Place 1/2 cup milk in a medium mixing bowl and sprinkle with gelatin. Set aside to soften for 5 minutes. Bring remaining milk and evaporated milk to nearly a boil in a medium saucepan over medium heat, stirring often. Add 1/2 cup light brown sugar, cornstarch, and the egg yolks to the softened gelatin and whisk until blended. Gradually whisk about a 1/4 cup of the hot milk mixture into the gelatin mixture; repeat this process once or twice using about 3/4 cup of the hot milk mixture. Pour the warmed gelatin mixture into the saucepan with the hot milk and bring to a boil over medium-low heat, stirring constantly. Cook for a few minutes or until mixture is very thick and coats the back of a wooden spoon.
Strain cream mixture through a fine wire strainer into a large bowl; whisk in 2 tablespoons butter and vanilla extract. Stir in the roasted bananas. Cool at room temperature for about 30 minutes, then transfer to refrigerator for 1 hour to cool. Spread the filling over the ganache in the pie shell and refrigerate for at least 4 hours.
For Topping: Beat 1 1/2 cups heavy cream in a large bowl on high speed until foamy. Add the powdered sugar and 1/2 teaspoon vanilla extract and beat until soft to medium stiff peaks form. Spread over the pie. Transfer the reserved 3 tablespoons ganache into a small resealable bag. Seal bag, pushing out all the air, and press the ganache to one corner of the bag. Cut a very small hole in the corner and drizzle on the top of the pie. Keep pie refrigerated until ready to serve.
Makes 8 servings.
Recipe and photograph are the property of Nestlé® and Meals.com, used with permission.