Spirited Eggnog Pie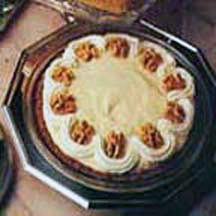 This festive eggnog pie, spirited with rum and brandy, has a gingersnap crust making it a perfect dessert for the winter holidays.
Recipe Ingredients:
Gingersnap Crust:
1 1/4 cups crushed gingersnaps
1/4 cup ground walnuts
6 tablespoons butter, melted
2 tablespoons granulated sugar
Spirited Eggnog Filling:
1/4 cup light brown sugar, firmly packed
2 (0.25-ounce) envelopes unflavored gelatin
2 1/2 cups dairy eggnog
1 cup whipping cream
2 tablespoons rum*
2 tablespoons brandy**
1 teaspoon vanilla extract
1/2 cup whipping cream (optional)
8 walnut halves, toasted (optional)
Cooking Directions:
Preheat oven to 350°F (175°C).
For Gingersnap Crust: Combine crushed gingersnaps, ground walnuts, melted butter and sugar. Press evenly onto bottom and sides of 9-inch pie plate. Bake 8 to 10 minutes or until lightly browned. Cool completely on wire rack.
For Spirited Eggnog Filling: Combine brown sugar and gelatin in small heavy saucepan. Gradually stir in 1 cup eggnog. Heat over low heat, stirring constantly, until gelatin is completely dissolved. Remove from heat. Stir in remaining 1 1/2 cups eggnog. Refrigerate until slightly thickened. Beat whipping cream in small chilled mixer bowl until soft peaks form
Using same beaters beat rum, brandy and vanilla into eggnog mixture. Fold in whipped cream. Pour into cooled Gingersnap Crust. Refrigerate several hours or overnight. Just before serving garnish with whipped cream and walnut halves, if desired.
Makes 8 servings.
Recipe and photo courtesy of the American Dairy Association/UDIA, National Cherry Growers and Industries Foundation and Swans Down Cake Flour.