Strawberry Bavarian Pie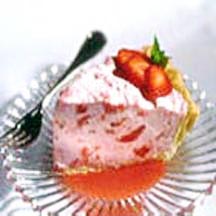 You know that spring has arrived with the first slice of strawberry pie. This version presents the strawberries in a billowy cloud of strawberry cream piled high in a buttery coconut crust.
Recipe Ingredients:
Coconut Crust:
2 1/2 cups sweetened flaked coconut
1/2 cup butter or margarine, melted
Filling:
4 cups fresh strawberries, rinsed, hulled and halved if necessary
3/4 cup granulated sugar
1 (3.5-ounce) package berry-flavored gelatin
1 cup water
2 teaspoons lemon juice
1 cup whipping cream, whipped
Cooking Directions:
Preheat oven to 300°F (150°C).
For Coconut Crust: In a small bowl, combine coconut and butter. Press the mixture into a 9-inch pie plate. Bake 20 to 25 minutes, or until golden brown. Cool.
For Filling: Reserve 1/2 cup berries for garnish. In a large bowl, combine remaining strawberries and sugar; mix well and set aside.
Meanwhile, soften unflavored gelatin with 1/2 cup water in a saucepan over low heat. Cook, stirring, until the gelatin dissolves. Add the gelatin and lemon juice to the strawberries.
In another bowl, whip cream until stiff then fold into the strawberry mixture; refrigerate until firm. Spoon mixture into the pie crust and refrigerate until set, about 4 hours.
Garnish with the reserved strawberries before serving.
Makes 8 servings.