Strawberry Cheesecake Pie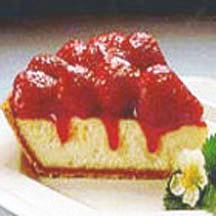 Deliciously simple, no-bake cheesecake pie topped with glazed fresh strawberries.
Recipe Ingredients:
1 (8-ounce) package cream cheese, softened
1 cup powdered sugar
1 teaspoon vanilla extract
1 teaspoon almond extract
1 cup heavy cream
1 (8 or 9-inch) graham cracker pie crust
1 to 2 pints fresh strawberries, rinsed and dried
1/4 cup strawberry jelly, preserves or jam, warmed
Cooking Directions:
In a large bowl beat cream cheese with an electric mixer at medium speed until fluffy.
Add powdered sugar, vanilla, almond extract, and cream. Beat until smooth.
Pour mixture into a graham cracker pie crust and refrigerate for 1 hour.
Gently toss strawberries warm jelly and arrange on top of the pie. Or, spoon glazed strawberries on top of individual servings.
Makes 8 servings.