Strawberry Cheesepie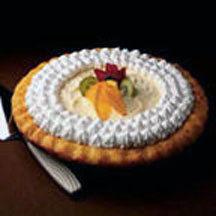 This refreshing fruited cream cheese pie has a savory, triple cheese crust.
Recipe Ingredients:
Crust:
1/4 cup (1 ounce) Wisconsin Medium Cheddar cheese, shredded
1/2 cup (2 ounces) Wisconsin Swiss cheese, shredded
1/2 cup (2 ounces) Wisconsin Monterey Jack cheese, shredded
3/4 cup all-purpose flour
1/4 teaspoon salt
1/4 teaspoon dry mustard
2 tablespoons butter, melted
Filling:
1 pound cream cheese, softened
1/4 cup powdered sugar
2 tablespoons cream
2 tablespoons pineapple juice
1 1/2 teaspoons vanilla extract
1 cup strawberries, sliced
Whipped Cream Topping:
1 1/2 cups heavy cream
3 tablespoons powdered sugar
1 teaspoon vanilla extract
Strawberries for garnish
Cooking Directions:
For Crust: Combine dry ingredients. Pour in melted butter; knead for 2 to 5 minutes, or until dough is workable.
Press dough into a 9-inch metal pie pan. Flute top edge and prick bottom of crust with fork. (Another 9-inch pie pan may be placed on crust for the first half of baking, to minimize shrinkage. Remove pan to allow browning.)
Bake in oven at 400°F (205°C) for 15 to 20 minutes, or until crust is light brown.
For Filling: Blend cream cheese and sugar on medium speed of mixture until smooth and creamy. On low speed, gradually add cream, pineapple juice and vanilla. Continue mixing until thoroughly blended.
Fold in strawberries. Spread mixture evenly into the prepared pie shell. Chill.
For Topping: Whip cream until soft peaks are formed. Add powdered sugar and vanilla. Whip until stiff.
Top pie with whipped cream. Garnish with strawberries and serve promptly.
Makes 6 to 8 servings.
Recipe and photograph provided courtesy of Wisconsin Milk Marketing Board, Inc.