Strawberry Cream Pie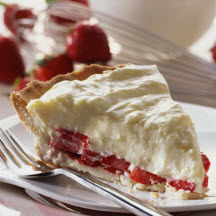 This creamy, dream of a strawberry pie features juicy red slices of strawberries layered atop a no-fail buttery shortbread crust and covered in a luscious, homemade vanilla cream custard. Simply put, this is one special dessert that shouldn't be missed when fresh strawberries are in season.
Recipe Ingredients:
Crust:
1 1/2 cups all-purpose flour
1/2 cup powdered sugar
2/3 cup melted Real California butter
Filling:
3/4 cup granulated sugar
1/4 teaspoon salt
1/3 cup cornstarch
2 cups Real California milk
4 large egg yolks, beaten
1/2 teaspoon vanilla extract (or almond extract, if desired)
3/4 cup Real California sour cream
2 cups strawberries, washed and sliced
Cooking Directions:
Preheat oven to 350°F (175°C).
Mix the flour and powdered sugar together. Add the butter. Mix together and press mixture into a 9-inch deep dish pie plate. Bake 12 to 15 minutes or until lightly browned then let cool.
Combine sugar, salt, and cornstarch in medium size saucepan. Slowly whisk in milk until smooth. Cook over medium heat until thick, stirring constantly. Boil 1 minute then remove from heat. Stir a small amount of hot mixture into beaten egg yolks. Pour back into pan and cook for 2 minutes more without letting the mixture boil. Remove from heat and stir in vanilla; fold in sour cream. Cover and cool to lukewarm.
Line pie shell with sliced strawberries and pour filling over berries. Chill well before cutting into wedges.
Makes 8 servings.
Recipe and photograph courtesy of the California Milk Advisory Board.