Grilled Herb-Crusted Pizza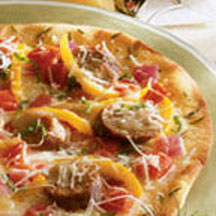 There's simply nothing that compares to the great flavor of grilled pizza, especially when topped with grilled Italian sausage links and veggies.
Recipe Ingredients:
1 (10-ounce) tube refrigerated pizza dough
Sauce:
1 tablespoon, plus 3/4 teaspoon chopped fresh rosemary (stemmed) or 1 1/4 teaspoon dried rosemary - divided use
3 tablespoons, plus 1 teaspoon olive oil
1 tablespoon, plus 1 teaspoon balsamic vinegar
Toppings:
1 teaspoon chopped garlic
1 to 2 hot or mild Italian link sausages (about 4 ounces each)
1/2 of a yellow bell pepper, seeded, quartered
1/2 of a red onion, peeled, cut into 1/2-inch thick slices
1 to 2 plum tomatoes, halved
Salt and ground black pepper, to taste
1 cup shredded Wisconsin Six Cheese Italian Blend - divided use
1 cup shredded Wisconsin Mozzarella - divided use
1 to 2 tablespoons chopped fresh basil
Cooking Directions:
Sprinkle 3/4 teaspoon fresh rosemary or 1/4 teaspoon dried rosemary over unrolled dough; press lightly into dough. With rolling pin on floured surface, roll dough out to approximately a 9-inch round. Set aside. (Dough can be made ahead, wrapped in plastic wrap at this point and refrigerated until 1 hour before grilling.)
Combine olive oil, vinegar and remaining rosemary to make sauce for pizza; set aside.
Prepare charcoal grill to medium heat, or until you can hold your hand 5 inches above the surface for 3 to 4 seconds.
Arrange sausage links, quartered peppers, onion slices and halved tomatoes on fine mesh screen on pizza grill. Brush with some of the pizza sauce. Season with salt and pepper, if desired.
Grill sausage(s), turning halfway through 20 minute cooking period, until done.
Grill peppers and onions until golden brown or slightly charred, turning halfway through 5 minute cooking time.
Grill tomatoes, skin side down, for 3 minutes.
Remove all from grill to cutting board to cool. Remove mesh screen.
Cut sausage(s) into 1/2 inch thick slices. Cut peppers into long strips. Break onions apart into rings. Dice tomato into 1/2 inch pieces.
Brush prepared pizza crust with pizza sauce mixture on both sides. Grill over medium heat until top puffs and bottom is golden brown and crisp, about 3 minutes. Turn; cook on other side for 3 minutes more. Remove to baking sheet to put on toppings.
Top pizza with 3/4 cup of cheese, reserving 1/4 cup for finishing garnish, sausage, peppers, onions and tomatoes. Drizzle top with remaining pizza sauce; return to grill, covering lightly with aluminum foil, until cheese melts, about 3 minutes.
Sprinkle with remaining cheese and fresh basil. Serve immediately.
Makes 1 pizza. (Recipe can be increased as needed.)
Recipe and photograph provided courtesy of Wisconsin Milk Marketing Board, Inc.