Honey-Hot Buffalo-Chicken Pizza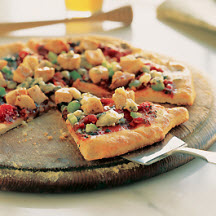 Recipe courtesy of the National Honey Board.
Recipe Ingredients:
3/4 cup plus 2 tablespoons prepared tomato-based pizza sauce (7 ounces)
1/4 cup honey
1/2 teaspoon hot pepper sauce, or to taste
1 cup diced or shredded, cooked chicken breast
1 (10-ounce) tube refrigerated pizza dough
1 tablespoon olive oil
3 ounces blue cheese, finely crumbled (3/4 cup)
1/2 cup finely diced celery
Cooking Directions:
Heat pizza sauce and honey; remove from heat. Stir in hot pepper sauce. Mix 2 tablespoons sauce with chicken; reserve.
Shape pizza dough according to package directions for thin crust pizza. Brush pizza shell with 1 tablespoon olive oil.
Spread remaining 3/4 cup sauce over dough. Scatter reserved chicken over sauce.
Bake in a preheated oven at 500°F (260°C) until lightly browned, about 10 minutes. Remove from oven.
Sprinkle pizza with cheese, then celery. Cut pizza into 6 wedges.
Makes 6 servings.
Note: Honey should not be fed to infants under one year of age. Honey is a safe and wholesome food for children and adults.
Recipe and photograph courtesy of the National Honey Board.