Individual Sweet Potato Breakfast Pizzas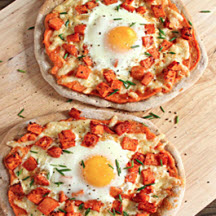 Recipe adapted from Healthy Food for Living blog, Finalist in 2012 No More 'Mallows Contest; courtesy of the North Carolina Sweet Potato Commission.
Recipe Ingredients:
2 large sweet potatoes (you'll end up using 1 cup purée and 2 cups diced)
1 tablespoon olive oil plus 1 teaspoon for drizzling
1/4 teaspoon garlic powder/granulated garlic
1/4 teaspoon onion powder/granulated onion
1/4 teaspoon paprika
2 pinches cayenne pepper
1 pound whole wheat pizza dough, at room temperature, divided into 4 equal portions
All-purpose flour, for rolling out dough
1 cup freshly shredded Gouda cheese
4 large eggs
Kosher salt and freshly ground black pepper
1/4 cup diced chives
Cooking Directions:
Preheat oven to 400°F (205°C).
Place one whole sweet potato directly on the rack and bake until very soft, about 1 hour. Remove from oven and let cool for 5 to 10 minutes before peeling and puréeing flesh in a food processor until smooth. Spoon out 1 cup to use as a pizza "sauce" (reserve any remaining purée for another use).
Increase oven heat to 450°F (230°C).
Peel remaining sweet potato and cut into 1/2-inch dice. Toss 2 cups of the diced sweet potatoes (reserve any remaining for another use) with 1 tablespoon olive oil, garlic powder, onion powder, paprika, cayenne, and salt and pepper to taste; place in an even layer on a baking sheet. Roast, stirring once, until softened but not yet crisp, about 15 to 20 minutes (they will continue to cook when baked on the pizza). Remove roasted sweet potato cubes from the oven.
Lightly flour a clean, flat work surface. Roll each ball of dough out to about 1/4-inch thickness (about 7 inches in diameter). Transfer to a rimless baking sheet lightly coated with 1 teaspoon olive oil.
Spread 1/4 cup of the puréed sweet potato flesh evenly over the surface of each dough round, leaving about a 1/2-inch border. Top each sweet potato-coated dough circle with 1/4 cup shredded Gouda, followed by 1/2 cup of the roasted sweet potato cubes. Carefully crack one egg on top of the sweet potato cubes in the center of each pizza.
Bake pizzas at 450°F (230°C) for 8 minutes. Carefully remove the baking sheet from underneath the pizzas, and continue to cook - directly on the oven rack - until the crusts are golden brown on the bottom, the cheese is melted, and the egg whites are fully set, about 2 to 4 additional minutes. Carefully remove pizzas from oven with a pizza peel and let cool 2 minutes before serving.
Season to taste with salt and pepper and top each individual pizza with 1 tablespoon diced chives.
Makes 4 servings.
Nutritional Information Per Serving (1/4 of recipe): Calories: 555; Total Fat: 20g; Saturated Fat: 7g; Fiber: 11g; Protein: 23g.
Recipe and photograph courtesy of the North Carolina Sweet Potato Commission.