Pizza Di Napoli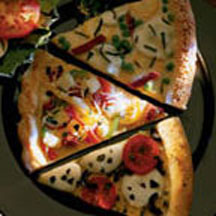 This Neapolitan delight is simple, yet offers a perfect marriage of flavors with pesto, plum tomatoes, fresh mozzarella, ripe olives and fresh oregano leaves.
Recipe Ingredients:
3 tablespoons pesto sauce
1 (12-inch) pre-baked pizza crust
3 plum tomatoes, sliced
1 (4-ounce) ball Wisconsin Fresh Mozzarella Cheese, thinly sliced
1/3 cup pitted ripe olive slivers
1 tablespoon minced fresh oregano leaves
Cooking Directions:
Preheat the oven to 450°F (230°C). Place the pizza crust on a cookie sheet.
Spread pesto evenly over pizza crust. Top with tomato slices, mozzarella cheese and olives.
Bake for 8 minutes or until cheese is melted. Sprinkle with oregano.
Makes 4 servings.
Variations:
Pizza Primavera: Omit the pesto, tomatoes, olives and oregano. Spread crust with 1/4 cup commercial Alfredo sauce; top with 1 cup yellow summer squash slices, 1/4 cup thawed frozen peas, 2 ounces thinly sliced prosciutto, julienne cut, and cheese. Bake as directed. Sprinkle with 2 tablespoons slivered fresh basil leaves.
Tri-Pepper Pizza: Omit the pesto, tomatoes and olives. Top crust with 1/2 cup each: yellow, red, and orange or green bell pepper strips and 1/4 cup red onion slivers. Dot with 1/2 cup chopped marinated sun-dried tomatoes. Top with cubed or diced Mozzarella cheese and 1/4 cup grated Wisconsin Asiago cheese. Bake as directed; sprinkle with oregano.
Recipe and photograph provided courtesy of Wisconsin Milk Marketing Board, Inc.