Almond-Stuffed Pork Chops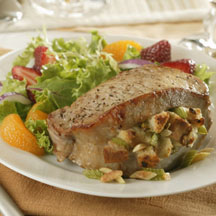 Stuffed pork chops with a basic bread stuffing enhanced with almond flavor and crunch.
Recipe Ingredients:
4 boneless pork loin chops, 1 1/4-inch thick
1 tablespoon butter
1/4 cup chopped almonds
1/4 cup chopped celery
1/4 cup chopped onion
2 tablespoons water
1 teaspoon chicken bouillon granules
1/2 teaspoon dried parsley flakes
1/8 to 1/4 teaspoon almond flavor
2 slices firm white bread, cut into 1/2-inch cubes
1 tablespoon browning and seasoning sauce (optional)
1 tablespoon water (optional)
Cooking Directions:
For stuffing, melt butter in medium saucepan over medium heat. Cook almonds, celery and onion in hot butter until vegetables are tender. Stir in the 2 tablespoons water, bouillon granules, parsley flakes and almond flavor. Add bread cubes; toss to moisten bread cubes.
Cut opening in each chop from the outer side; widen opening into pocket, being careful not to cut through the other side of the chop. Fill pockets in chops with equal amounts of stuffing. Secure with toothpicks.
Preheat oven to 375°F (190°C).
Place stuffed chops on roasting rack in shallow roasting pan.
Bake, uncovered, until internal temperature is 160°F / 70°C (check temperature in thickest part of meat), 35 to 45 minutes.
Combine browning and seasoning sauce and 1 tablespoon water in small bowl, if desired; brush over chops.
Bake for 2 minutes more. Remove toothpicks from chops.
Makes 6 servings.
Nutritional Information Per Serving (1/6 of recipe): Calories 433 calories Protein 39 grams Fat 26 grams Sodium 284 milligrams Cholesterol 117 milligrams Saturated Fat 9 grams Carbohydrates 10 grams Fiber 1 grams.
Recipe and photograph provided courtesy of National Pork Board.