Bacon-Pork Chops with BBQ Glaze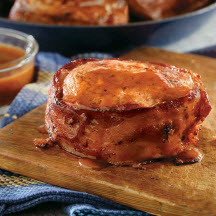 Serve these mouthwatering chops with a side of smashed sweet potatoes simply seasoned with butter and a splash of maple syrup.
Recipe Ingredients:
4 (6-ounce; 1-inch thick) New York (top loin) pork chops
1 teaspoon kosher or sea salt
4 slices bacon, preferably maple-flavored
4 tablespoons your favorite barbecue sauce
1/2 cup lager beer (or non-alcoholic beer)
1 teaspoon canola oil
1/2 cup chicken broth, reduced-sodium
Cooking Directions:
Preheat oven to 400°F (205°C).
Season pork with salt. Wrap bacon around the edges of the pork and secure with a wooden toothpick.
Mix together barbecue sauce and beer.
Heat oil in a large oven-proof skillet over medium-high heat. Stand chops bacon side down in skillet, leaning against the side of pan if needed. Using tongs, in sequence, turn and stand chops along bacon-wrapped edges to lightly brown bacon, about 3 1/2 minutes (allow about 45 seconds to brown each section). Place chops, wide flat side down, in skillet and cook until underside is lightly browned, about 1 minute. Turn chops over. Spread equal amount of barbecue sauce mixture over top of each chop, letting excess run into skillet.
Place skillet with chops in oven and bake for 10 minutes. Transfer each chop to a dinner plate and let stand while making sauce.
Meanwhile, pour out fat from skillet, leaving browned bits in skillet. Heat skillet over high heat until hot. Add broth and bring to a boil, scraping up browned bits with wooden spoon, and boil until reduced by half, about 2 minutes. Top each chop with a spoonful of sauce and serve hot.
Makes 4 servings.
Nutritional Information Per Serving (1/4 of recipe): Calories: 350 calories; Protein: 51 grams; Fat: 11 grams; Sodium: 1120 milligrams; Cholesterol: 130 milligrams; Saturated Fat: 3 grams; Carbohydrates: 7 grams.
Recipe and photograph provided courtesy of National Pork Board.